This is an archived article and the information in the article may be outdated. Please look at the time stamp on the story to see when it was last updated.
TRINIDAD, Colo. –Illegal hunts in Colorado are on the rise according to a veteran Colorado Parks and Wildlife investigator.
Bob Holder a 41-year lead investigator with CPW believes more outfitters are taking advantage of our trophy elk and other big game animals across the state by sending hunters on illegal hunts. "Unfortunately, it's becoming more prevalent," Holder said.
A southern Colorado outfitter accused of running an illegal big game hunting operation appeared in court recently on charges he lured deer and elk to a ranch in Las Animas County by feeding them.
Wildlife officers charged James Hirschboeck with operating an unlicensed outfitting business for profit, illegally possessing a bull elk and hunting on private property without permission.
The investigation began when 15 out of state hunters complained about Hirschboeck saying their $3,000 per person hunt was a scam.
A hunter from California told FOX31 Denver that they took pictures of hay which was spread across the acreage they were hunting. The hunter who did not want to be identified said, "He told us he had 30,000 acres to hunt and he had 3,000 acres. We are lucky no one was shot."
Undercover agents posed as clients and have first hand accounts of how a bull elk was killed on private property and dragged to an adjoining ranch that Hirschboeck leased. Holder said, "Wildlife belongs to each and every one of us whether you fish and hunt or not, so when someone steals that wildlife it's called poaching and it's taking that wildlife away from you and I whether to hunt or just enjoy."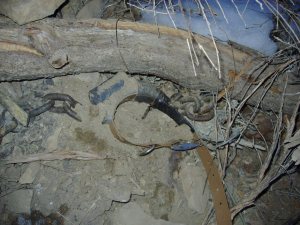 Hirschboeck is just one of several big game outfitters facing charges in Colorado.
Christopher Loncarich from Reuters was convicted of shooting mountain lions and bobcats to help clients kill them more easily. Loncarich admitted he led a ring of hunters and guides who shot, trapped and caged wild cats to provide clients with fake chase hunts.
The hunting packages he advertised ranged in price from $3,500 to $7,500.
Holder said, "Wounding an animal so it can be turned out in front of someone, that's not hunting, that's poaching."
Loncarich remains in prison charged on the federal Lacey Act and the last guide being prosecuted in the case goes to court in April.
Trophy kills
CPW has also found outfitters who specialize in trophy kills. The outfitter would take the animal just for a mount or head and antlers and leave the meat and carcasses behind to rot.
"If wildlife has been wronged, it's our job to step up and protect them. Hunting is not about killing. Anybody can pull a trigger. It's in here. There's much more to hunting that killing an animal. It's the environment; it's who you are with, the time of day. It's the weather. All of those things are a memory."
Colorado Parks and Wildlife depend on residents and hunters to report criminal activity.
There's a list of current cases, which investigators are seeking information on their web page. You can also report possible criminal activity by calling 877-265-6648.