This is an archived article and the information in the article may be outdated. Please look at the time stamp on the story to see when it was last updated.
DENVER — On a sunny Spring day in Centennial, you'll find private jets lining the runway, cleared for takeoff. Many of these private planes transport some of Colorado's most powerful and prestigious passengers.
One of them displays the tail number N205SP. It's a King Air Turbo and comes with a price tag of $4.2 million.
It may surprise you to learn that, as a Colorado resident, you own it. It's one of the state planes paid for by your tax dollars.
"It's always more cost-effective when you're going around the state, especially in a state like ours," said Lance Clem, a spokesperson for the Colorado State Patrol.
By state statute, the State Patrol is responsible for maintaining and operating the plane.
Clem explains it's available to any state office or agency for state business.
"Whomever is using the plane is responsible for explaining how it's used and why it's used in the manner it's used." Clem said.
Using open records laws, FOX31 Denver obtained and analyzed thousands of documents that recorded every flight, every passenger and every destination. Records provided by the state show the plane taking at least 242 trips over the last three years.
But that number can be deceptive.
"A trip can be to multiple destinations," Clem said. "For example, the governor could take a trip to Pueblo and then from there go to Durango and from Durango to Craig and then back to Denver. That's one trip you'll see here."
That's exactly what FOX31 Denver found. Take for example an August trip when Gov. John Hickenlooper took his son, Teddy, to the weekend kick-off for the USA Pro Cycling Challenge in Durango.
Also on board was Hickenlooper supporter and former mega sports store owner Ken Gart and his son.
The State Manifest shows this as one trip when the plane was actually in the air five different times. After flying to La Junta, the King Air was on its way to Durango where it dropped off the governor and other passengers.
Forty minutes later, the plane was in the air again and headed back to Centennial. Two days later, N205SP was on its way back, this time to Telluride, to pick everyone up. One hour later, it was headed back to Centennial.
Over three years, FOX31 Denver found the Governor's Office used the plane 42 times — more than any other agency.
Official business also took University of Colorado doctor Madeleine Kane to Alamosa at least 39 times to treat cancer patients.  The university reimburses the state every time it uses the state plane.
A trustee of Western State College used the plane at least 13 times to attend meetings, just under the number of times the Lieutenant Governor's Office requested to use the plane.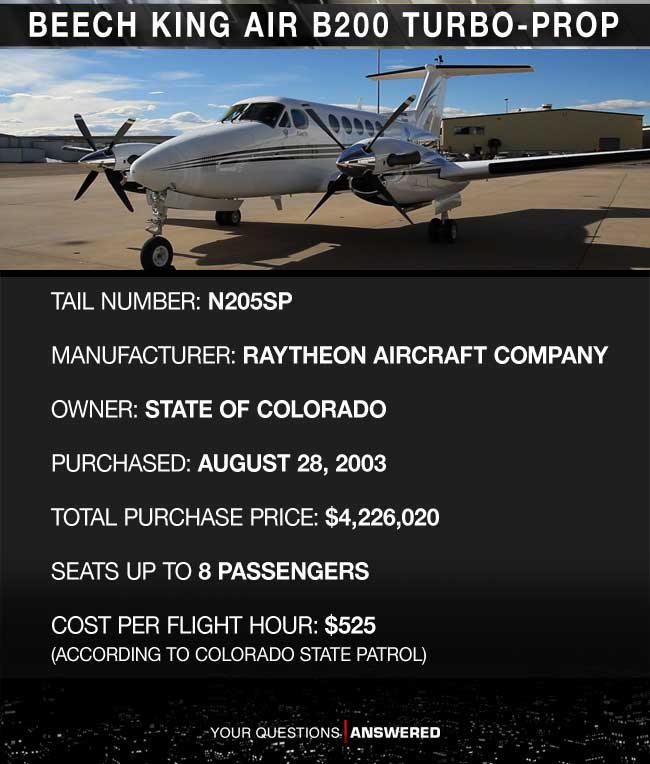 Some passengers weren't just buckled in with seat belts — they were also in handcuffs. The state plane is routinely used for prisoner transports, bringing fugitives like Jeremy Estep back to Colorado to stand trial for murder.
However, some watchdog groups consider some examples of "state business" we found to be wasteful. In August, for example, the Colorado Wine Board flew writers and other guests to the Western Slope, hopscotching from regional airport to regional airport to pick up passengers.
Some of these flights took passengers just 33 miles from Centennial Airport in Arapahoe County to Rocky Mountain Metropolitan Airport in Jefferson County. It's a flight time of seven minutes.
Doug Caskey, the Wine Board's executive director, told us "that was a matter of convenience and discounted parking and again saving the participants' time."
FOX31 Denver also found seven-minute flights heading from Centennial Airport to Rocky Mountain Metropolitan Airport to fly to Colorado Mesa University State Board meetings and Adams College, both on the Western Slope.
Luis Toro with Colorado Ethics Watch said the mere fact that the state plane is making seven-minute flights is counter-intuitive,
"The issue with the seven-minute flight is that it doesn't seem like a wise investment," he said. "Every time someone spends money, leaders should be asking, 'Is this a wise investment that we have all made to make Colorado better a state?' To me, that's over the line and I don't think that can be justified."
When made aware of our report, the state filed papers with the FAA to block the public from accessing the flight information from N205SP.
"That's disturbing and it makes it seem like they don't want the public to know what they're using this plane for," said Toro.
For every hour in the air, the state agency responsible for reserving the plane pays $525.  Passengers who are on board but not on state business are responsible for paying their own way.
FOX31 Denver found that includes Hickenlooper's son Teddy. After we started asking questions and digging into state records, the governor wrote a check to the state for $904.
Ken Gart reimbursed the State $431 for the trip to the USA Pro Cycling trip.