This is an archived article and the information in the article may be outdated. Please look at the time stamp on the story to see when it was last updated.
DENVER -- Severe weather season in Colorado is in full force. Every time a major storm blows across the state, homeowners are often hit first by the weather and then again by roofing companies going door-to-door—trying to get you to hand over money for work they never do.
Investigative reporter Heidi Hemmat found more than a dozen home owners who paid a local company tens of thousands of dollars for new roofs that were never installed.
Jefferson county resident Brian Cooper said he and his wife have been waiting since last summer for a new roof after a major hail storm. Cooper said "hail really messed this roof up."
The Coopers paid more than $5,000 to "Lifetime Roofing" in Evergreen to replace their hail damaged roof.
Cooper said, "Lifetime requested that we get a check from the insurance company and sign it over to them. They said they needed it up front to get the materials. We got the check and signed it over to them and that's the last we heard of them."
Cooper said he called and emailed the company several times, but said he did not receive a response.  He did, however, hear from his insurance company. "The insurance company called and said 'how do you like your new roof?'" Cooper said.
An invoice shows Lifetime Roofing billed Farmers Insurance $18,000 for a completed roof, when no work was done. "We panicked … I believe we got scammed 100 percent." Cooper said.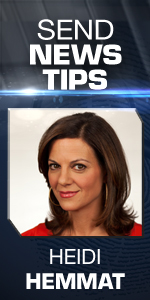 The FOX31 Denver investigative team found he is not alone.
Michelle Kelley said the roofing company installed her new roof, but left gaping holes in the siding and gutters. Kelley said, "I think he's looking to dupe the consumer and the insurance company."
Lifetime roofing billed Kelley's insurance company $22,000 for a completed job, including the gutters and siding which were not replaced. Kelley said, "Once I saw the paper work and saw it was billed back in October before any work was done. I was completely floored."
Lifetime Roofing is owned by Jonathan and Alyssa McMillan.
Jonathan McMillan claims his roofing company simply grew too fast, "We went from 16 roofs in 2013 to 167 roofs in 2014, so we did get over extended."
McMillan said he is working hard to roof or refund all the customers who said they signed their insurance checks over to the roofing company.
McMillan said, "If that's the case, that we asked the insurance company to pay for something we didn't do that was a mistake…"
Investigative reporter Heidi Hemmat asked, "Isn't that insurance fraud? McMillan answered, "Um, well, by the letter of the law, yes."
McMillan said he is a small business owner who was over-extended.
Meanwhile, Cooper said he is still waiting for a new roof.  "We don't have the money out of our own pocket to fix our roof. This is just a terrible thing that this company is doing and it needs to be stopped."
The Colorado Attorney General's office is investigating.  If something like this has happened to you, file a complaint with the AG's office.
---
How to file a complaint
---
Tips when hiring a roofer:
Do not sign your insurance check over to roofing company
Deal with your insurance company directly
Roofers must provide a detailed written contract that includes scope of work, insurance information, and dates of service, costs and contact information
Do not pay for the entire job or make a large down payment up front