This is an archived article and the information in the article may be outdated. Please look at the time stamp on the story to see when it was last updated.
DENVER -- There is growing evidence the state of Colorado might have "Frankensteined" a guardrail system that seriously injured a Fort Collins woman.
Kristen Gerhard, 31, slammed into a guardrail end cap terminal in June along Interstate 25 near Johnstown.
Experts tell the FOX31 Problem Solvers the mechanism jammed up.
Instead of slowing Gerhard's car in a controlled fashion, a segment of mangled guardrail flew around Gerhard's SUV, through the door and inside her vehicle. The guardrail nearly amputated her foot.
"They used the Jaws of Life, or whatever you call it, to cut me out of the car," she said. "I was not able to move at all. My foot was basically hanging off at this point."
The end cap treatment is sold to the Colorado Department of Transportation by Road Systems. According to mechanical engineers, the system failed to perform as designed.
A federal study into the safety devices last year found the RSI FLEAT end cap, the same one from Gerhard's crash, had "performance limitations" in real-world conditions.
But the Federal Highway Administration allowed the product to stay on its approved list of roadside safety devices.
Three different engineers with knowledge of CDOT's guardrail system contacted the Problem Solvers.
They had reviewed pictures and video from before and after the crash of the terminal design and determined CDOT had installed "mix and match" parts.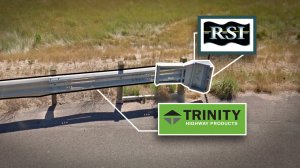 "They've taken the cap from one system and mixed it with the body or the rail of a different system so they really do have this 'Frankensteined' system and it's probably not going to operate correctly just like it did in the accident," said Ben Railsback, a mechanical engineer with Knott Laboratories in Centennial. "It failed to operate properly."
Railsback said he had also spoken with the inventor of the guardrail products, Dean Sicking, to confirm that preliminary assessment.
Railsback said more studies need to be done, but pictures show a clear discrepancy.
Records show CDOT buys from two major guardrail competitors, Trinity Highways and Road Systems.
Visual evidence from before the crash on Google street view shows the RSI FLEAT end cap terminal is abutted to a critical first section of railing that is an SRT made by Trinity.
"These beams are designed to bend in different ways or collapse in a different way," Railsback said. "You can't really mix the cap with a different rail system."
Most guardrail systems function best when a veering car hits the end cap terminal, the long primary sheet of metal-railing slides through a slit on the front, curling and absorbing energy to slow the vehicle in a more controlled fashion.
Trinity's first rail is not designed to slide and bend properly through a competitor's end cap opening.
In fact, one Trinity installation manual warns in six places: "The installation or co-mingling of unauthorized parts is strictly prohibited. failure to follow this warning could result in serious injury or death."
CDOT has not provided invoices, work orders and other documents that would show how the Johnstown exit guardrail system was installed.
CDOT has also not responded to the allegation of incorrect installation at the site of Gerhard's crash.
Chief engineer Joshua Laippley admitted CDOT is ultimately responsible for making sure installations are done correctly.
"We have policies and procedures in place to make sure we're doing a quality control, to make sure whether it's a contractor installing guardrail, that we've inspected it or hired a consultant to inspect it and make sure we checked the appropriate things," he said.
To add to CDOT's troubles, the Problem Solvers have confirmed the new, supposedly safer guard rail system installed after Gerhard's crash is installed wrong.