This is an archived article and the information in the article may be outdated. Please look at the time stamp on the story to see when it was last updated.
DENVER — Leonard Duran was an eight-year veteran of the Denver Sheriff's Department who resigned in disgrace in July.
It was his side job that first got him in trouble with Internal Affairs. It was our questions about a trespassing charge that mysteriously disappeared that now has him back in court later this month.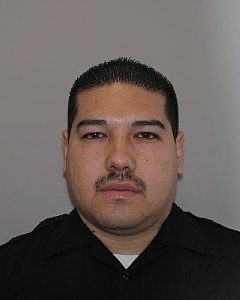 When the Problem Solvers met up with him, he was a little testy, saying, quote, "You guys are F*&@ idiots."
Let's rewind so you can understand Duran's defensive attitude. Our Problem Solvers Producer called Duran to get a quote on installing shower glass after numerous viewers complained that Duran demands partial payments up front, but then never returns to do the work.
Frank Whispell wanted new glass for his shower and hired Duran with Colorado Custom Glass back in January.
"I gave him $550 as a deposit to get the job done" Whispell said.  According to Whispell, "It was January 15th and he said he would be able to get the job done January 22nd. Still no word."
Another customer said he is out $3,000.
Damon Hirschl needed new windows at his rental property. "He just never showed up on the day and then he gave me a ton of excuses," Hirschl said.
There was a good reason why customers thought they could trust Duran.
"He showed me a picture of himself in a sheriff's uniform and I asked him 'are you a sheriff?' and he said, 'Yes, that's my full time job. I do this three days a week,'" recalled Hirschl.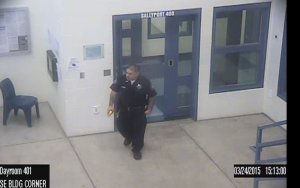 The Problem Solvers obtained video of Duran working at the Denver Jail earlier this year.
Deputies are allowed to have side jobs, but need the Sheriff's permission first. That's something Duran never even sought.
When the Sheriff's Department started getting complaints from angry glass customers, Internal Affairs pulled video of Duran at work on March 24 and 25, 2016.
According to his disciplinary report, he was using his cell phone to operate his glass business when he was supposed to be watching inmates.
Investigators said Duran missed 39 percent of his required rounds, failed to conduct roll call and failed to conduct pat searches as inmates entered and left the housing unit.
Investigators said he sometimes went to Facebook and YouTube – a big no-no! His punishment was a 30-day suspension, but that doesn't help customers wh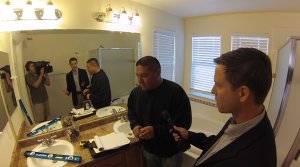 o felt ripped off.
That's when FOX31's Problem Solver Rob Low confronted Duran about his former customers.
We asked Duran why he was taking their money and not doing the work.
Duran's memory was a little fuzzy at first.
We asked Duran about Damon Hirschl: "He gave you $3,000 deposit."
"No," Duran replied.
Again we refreshed his memory: "He never saw the money again."
Once again he responded "No."
But he started to remember some things.
"Do you remember the firefighter that turned you into the sheriff's department?"
"Yeah," he responded.
We asked Duran if he wanted to tell us why he resigned from the sheriff's department and he quickly responded, "That's none of your business."
As we tried to catch up with Duran, FOX31's Problem Solver Rob Low asked Duran if he remembers showing up at a stranger's house at 4 a.m. on July 16, where he was cited for trespassing.
Duran denied the accusation.
"No, you got the wrong person," he said.
But Erik Garcia said it was Duran who showed up at his home.
Garcia said, "He couldn't remember his own name."
According to Garcia, Duran appeared drunk when Garcia found him walking out of his bathroom at 4 a.m.
"I asked him what he was doing here, he said he was looking for his phone," according to Garcia.  That was when Garcia immediately called police.
"He told me to let him leave because he was a Denver Sheriff, he showed me his badge," said Garcia.
That was the very day Duran was supposed to return to work from his 30-day suspension, but never did and he resigned nine days later.
However, Duran denies trespassing in Garcia's home.
"I wasn't at no stranger's house at 4 in the morning, what are you talking about?  Show me the record,"  Duran said.
FOX31 did obtain the original citation for trespassing, which somehow never made it to the city prosecutor.
The trespassing charge would have disappeared if the Problem Solvers hadn't started asking questions.
Denver police tell us an officer forgot to click send on his computer, but now Internal Affairs is investigating why procedure wasn't followed.
Thanks to the Problem Solvers, Duran has a new court date and at least one of his customers has been paid back.
Surveillance video shows Duran, the day after we confronted him, with a check in his left hand that he ended up leaving under Frank Whispell's door.
"Because of you guys, things happened, otherwise I'd still be going, 'Come on Leonard,'" Whispell said.
Hirschl won a default judgement, but has had no luck collecting from the sheriff's office.
"The HR department told me when I called them that he had already been garnished for the last significant period of time and somebody had just called in three days before with another garnishment," Hirschl said.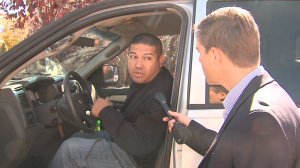 Duran has plans of his own.
"I'm going to sue you guys if this goes on air, I'm going to sue you guys," he said.
One thing is clear, Duran will be in court November 28 for the trespassing charge.