This is an archived article and the information in the article may be outdated. Please look at the time stamp on the story to see when it was last updated.
DENVER -- Until recently, Steamboat Springs veterinarian Courtney Diehl trusted her 2013 Dodge Ram 2500 truck to get her safely to clients at places like the Iron Horse Ranch.
"This truck is my lifeblood," Diehl said. "It carries all of my equipment. Inside the cab of the truck I have larger pieces; radiology, ultrasound, things like that."
On Nov. 2 Diehl was driving her traveling vet clinic when flames suddenly erupted under the hood.
"I got in the truck and drove through town and started to smell that electrical burning smell that tells you something is really wrong," Diehl said. "It was unmistakable. Traffic was stopping along Main Street. People could see the truck was burning."
A nearby coffee shop employee doused the flames before fire spread beyond the engine compartment. Pictures and video taken by Diehl documented the still-smoking alternator, burned wiring and discolored metal.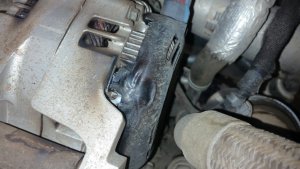 Diehl felt lucky to be moving slowly in town when the fire started. She knows enough about alternators to understand steering and brakes can become affected when it suddenly stops working.
She relayed even greater concerns about her many neighbors who haul livestock behind their Ram trucks.
"A lot of us haul horses," Diehl said. "If the truck is burning quickly, there may not be time to get your horses out. You pull a sparking alternator into your garage and it burns your house down or a family gets trapped in the car and they can't get out because the fire is quick. It's a huge issue and needs to get addressed. Ram has not come clean about this."
With only about 67,000 miles on it, Diehl's Ram 2500 was still under an extended service and maintenance contract.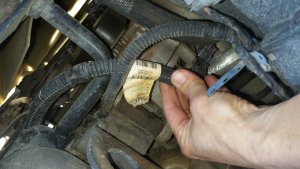 Records from the local dealership, Steamboat Motors, show mechanics "found the alternator had almost came to the point of melting." They titled the repair order "alternator catching fire while in drive."
However, when it came time to fix the damage, Dodge's parent company, Fiat/Chrysler Automobiles, stepped in to stop payment for the repairs.
The FOX31 Problem Solvers reviewed a letter sent to Diehl from FCA's special investigations unit dated Nov. 30.
Mailed nearly a month after the fire, the letter said in part; "We are not led to believe that the incident was due to a manufacture responsibility."
In short, Dodge wasn't going to replace the toasted alternator or all the fire-damaged parts connected to it. Diehl characterized the letter as "infuriating."
"It said bluntly: This is not our problem. You are on your own. Good luck to you," she said. "They stonewalled me fairly professionally."
But Dodge was keeping some exceptionally relevant information from Diehl.
Records on file with the National Highway Traffic Safety Administration show FCA was already well aware of what its engineers characterized as "Rapid alternator failure due to diode thermal fatigue."
The Problem Solvers found that starting in July 2015, Dodge's vehicle safety division opened an investigation into a growing number of complaints about its Denso International-made 220 amp alternators, the same kind installed in Diehl's Ram 2500.
By September, records show FCA had "identified approximately 300 instances of alternator failure, smoke and/or fire" along with being "aware of one injury potentially related to the issue."
In October, FCA agreed to a voluntary "defect" recall of 74,833 U.S. customer-based alternators in certain 2007-2013 model year Ram trucks and 2011-2014 Dodge Charger police vehicles. Also included in the recall were an additional 10,077 vehicles in Canada and 1,088 in Mexico.
The inventory list included certain heavy-duty Ram trucks (2500, 3500, 4500, 5500), but not the best-selling Ram 1500.
The Problem Solvers found the Colorado State Patrol owns 99 Dodge Chargers. A spokesman said the agency has been made aware of the safety recall, but most of the vehicles are still roaring down the highway unfixed.
The Colorado State Patrol has had trouble finding a dealership with enough redesigned alternators to replace the recalled ones.
Mechanical engineer Steve Knapp of Knott Laboratory in Centennial, is an expert in vehicle fires, and looked at pictures, video and repair orders in Diehl`s case.
"We're looking at a very quick and sudden event that takes an alternator from, all practical senses, from working and not being detectable, to being able to cause a fire," Knapp said.
He added it was apparent to him that Diehl's Ram truck fell under that October recall. Knapp also noted, according to federal records, FCA had another recall in 2014 related to alternator fires.
That defective part recall involved 160 amp alternators (also made by Denso International), and installed in hundreds of thousands of popular FCA cars and SUV's like the Dodge Durango and Jeep Grand Cherokees.
The 2014 vehicle safety notification warned owners: "The driver will have limited or no detection of the alternator failing, which can result in vehicle shutdown.. and/or an underhood electrical fire."
As part of a wider concern about "delays in execution of recall campaigns," in 2015, the U.S. Department of Transportation fined FCA $70 million.
Federal records show that penalty was tied to several recalls that included the 160 amp Denso "sudden failure of the alternator" issue.
Despite similarities between the language used in the 2014 and 2016 alternator recalls, an FCA spokesman denied the two are mechanically related.
"The defects identified in the two recalls were addressed in discussions with the supplier," FCA media relations manager of safety and regulatory compliance Eric Mayne said in a statement.
"The two cases, despite the similarity of the suspect components, are distinct in their circumstances. The scope of the initial campaign was defined by NHTSA and confirmed by our internal data analysis. The exacerbating factor was the vehicles' electro-hydraulic steering (EHS) system. In the most recent circumstance, the exacerbating factor was duty cycle, i.e. extreme use consistent with fleet vehicles such as work trucks and police cruisers."
Knapp said he understands why engineers at FCA are classifying the two alternator issues as separate: One tied to steering, the other to heavy-duty uses.
However, experience tells him FCA might see some additional problems with other alternators made by Denso in the future.
"If this manufacturer that's making this alternator is having a problem on a few certain models, I think it`s going to be likely we see additional electronic components, that are used throughout their product line, will also start seeing those failures," he said.
"It's just a matter of time that these problems become known. The manufacturer isn't going to say, 'Oh, darn. I got all these electronic components going bad in these alternators, we're just going to call all our vehicles back.'"
In December, more than a month after Diehl fled her truck with its alternator on fire, Dodge changed course and decided her Ram 2500 did fall under its latest voluntary recall.
Ram fixed the melted engine parts, but repairing its image to a once-loyal customer isn't going to be an easy task.
To see if your vehicle has any recalled parts or safety issues, visit the National Highway Traffic Safety Administration website and enter the VIN for the vehicle.