This is an archived article and the information in the article may be outdated. Please look at the time stamp on the story to see when it was last updated.
DENVER — It takes hard work, dedication and years of training to become a service dog, but imposters are giving good dogs a bad name. A FOX31 Denver investigation found dozens of websites selling service animal certifications, animal vets and ID cards to pet owners so they can take their furry friends into restaurants, malls and airplanes.
National Service Animal Registry (NSAR), which originates in Colorado, offers service animal certifications, vests and badges for $64.
Also for sale on the website … emotional support animal kits from Chilhowee Pyschological Services for $164 which includes a letter from a licensed therapist. The letter certifies a pet as an emotional support animal.
We wanted to know what we would get, so a FOX31 Denver producer, who has a cat, ordered the support animal kit. The kit required the producer to take an online test and talk on the phone twice with a woman who said she was calling from Sutherland Counseling.
A letter from a licensed professional counselor certifying our producer as mentally disabled arrived in the mail. The letter was signed by Stanford S. Sutherland and said our producer "is under my care …" and that he is currently treating her for a "mental health disability." Sutherland never saw our producer as a patient nor did he ever speak to her on the phone.
Chilhowee Psychological Services website features clinicians, CEO Timothy Livingood, a certified counselor in Oregon and Stanford Sutherland, a licensed professional counselor (LPC) in Colorado Springs.
Both NSAR and Chilhowee Psychological Service's websites are operating from the same location inside an office building in Woodland Park, Colorado.
We wanted to speak to counselor Sutherland and the company's CEO. A statement from Livingood said in part: "Are we certain that every customer has a valid disability? Because our products are not required and carry no legal authority, it is possible that some customers are dishonest in an attempt to take advantage of the legal system by posing as disabled (although the products may be purchased elsewhere with no questions asked, while (we) requires a customer to affirm they qualify as disabled."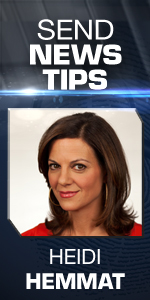 FOX31 Denver did not hear back from Sutherland, so we went to the offices for Chilhowee Psychological services and the National Service Dog Registry in Woodland Park. There we found no counselors or dog trainers inside, just service animal vests and people who appeared to be processing orders. An employee told us we were at Chilhowee's administrative office and then a supervisor told us to leave.
Sutherland Counseling is located 20 miles away in Colorado Springs.
FOX31 Denver requested an interview with the counselor who certified our producer with a mental health disability, but Sutherland refused to come out of a private office. His wife, Lillie Sutherland said, "You need to go on our website, you need to contact me and I will talk to you when I'm not so busy…"   We did what Mrs. Sutherland asked, but she still refused to talk to us.
Sean Boyd, the president of the Colorado Counselor's Association said it's impossible to diagnose a mental disability with an online test and two phone calls. Boyd said, "There are a lot of red flags for sure. This is a really big label, it's a very serious diagnosis and the course of treatment needs to be handled with care."
Boyd believes the counselor could be violating the counselor's code of ethics. Boyd said, "That's very upsetting to me. That should not be happening. That should not be happening."
Multiple stroke survivor, Natalie Hunter and service dog owner said people posing pets as support animals makes her life more difficult. Hunter said what Sutherland is doing is not just ethically wrong, but is criminal. Hunter said, "It should be looked into as a crime."
The Colorado Department of Regulatory Agencies, or DORA, can take action against a counselor's license, but it has to receive complaints about Sutherland's practice before the counselor's board will investigate.
CEO, Tim Livingood, doesn't have to worry about that. He claims to be a "certified counselor" in Oregon, but Oregon's licensing board confirms he has never had a license.
There is a Colorado law that prohibits people from passing themselves off as disabled, CO-18-13-107, it is a class 1 petty offense.