This is an archived article and the information in the article may be outdated. Please look at the time stamp on the story to see when it was last updated.
DENVER — A hot afternoon in June quickly turned chaotic for Denver 911 operators and dispatchers when an active shooter tore through a downtown building. The emergency response radios from June 28 replay the chaos.
"Attention all cars 1536 Wynkoop at the Alliance Center we have an active shooter in the stairwell. Party is screaming."

"1536 Wynkoop complaint is on second floor, shots being fired in the building. People are calling from under their desks."
Calls flooded the 911 communication center when Mickey Russell killed his estranged wife and then shot himself.
But dispatchers said the emergency response system did not need a high-profile tragedy to show their office is understaffed and that people are waiting on hold for long periods of time.
"There were other emergencies going on. Somebody might be injured from a car accident, however ,everyone had responded to that shooting," said a dispatcher who did not want to share his name for fear of retribution.
Starting in August, Denver dispatchers are required to work at least 48 hours a week and be on standby for another six hours. Sixty-hour weeks are a possibility.  A single shift can last 16 hours and dispatchers say the turnaround time can be brutal.
"Leaving the building and within eight hours be back at the building. It kills you because you don't get enough sleep, you don't get enough time away from the job to come home to destress, to do everything you need to do to keep a healthy mind," a dispatcher said.
From Jan. 1 to July, the city spent almost $500,000 in overtime for dispatchers and call takers.  Of the $484,218.63 paid out, the employee who made the most took home $32,679.37 in overtime pay. The city paid another dispatcher $22,143.74 for working overtime.
"What I can tell you is we are not wasting taxpayer money," 911 operations director Athene Butler said.
Butler claims the city is hiring employees as fast as it can and this year is holding three academies instead of two.
"We've gone through some transitions since I have come on board and not everybody adapts well to change. That's in any industry," Butler said.
Understaffing at dispatch means delayed responses from police and medics.
A 2014 Denver audit on police response times suggested 99 percent of all 911 calls be answered in 40 seconds or less.
FOX31 Denver requested call logs for weekend nights in June and found people waited on hold a lot longer than 40 seconds.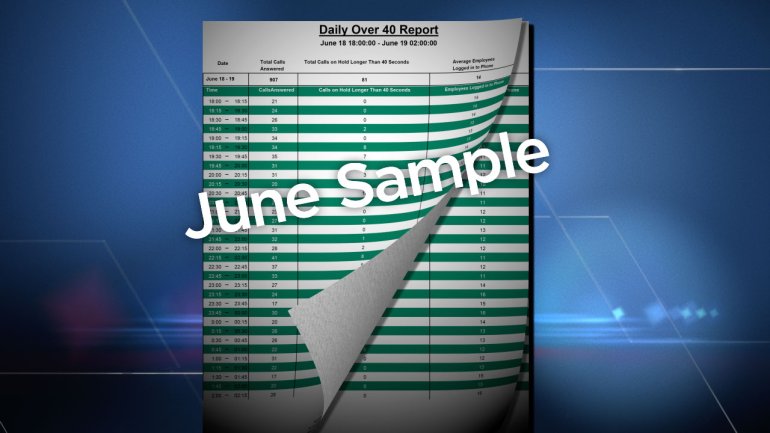 On Friday and Saturday nights, while 99 percent of calls should have been answered within 40 seconds, only 88 percent were answered within the time frame. On the worst night, June 11, about 76 percent of the calls met their own criteria.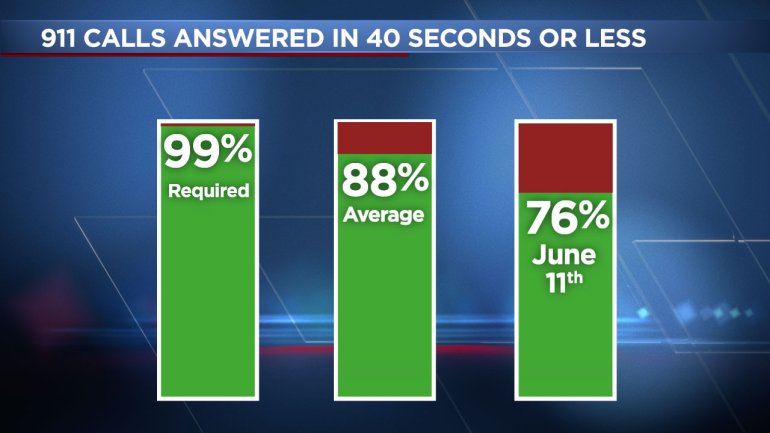 A picture leaked to the FOX31 Problem Solvers shows a caller waiting 11 minutes, 44 seconds for their emergency to be answered.
Cheryl Hutchison is the union representative for Denver 911. She has been getting frustrating calls and emails from dispatchers.
"A lot of them are leaving. A lot of them are finding other jobs. A lot of them are just uncertain as to what the future holds because they don`t feel like they're being heard," Hutchinson said.
Denver will move its emergency call center to a larger building in 2018. That will allow more staff the city has promised to budget. The seven people recently hired have 10 to 11 weeks of training before they take calls.
In the meantime, dispatchers fear the worst.
"Someone is going to be having a funeral instead of you know family in their hospital room because the ambulance didn't make it in time," a dispatcher said.
Have you been put on hold while calling 911 with an emergency? If so, email to the Problem Solvers.