This is an archived article and the information in the article may be outdated. Please look at the time stamp on the story to see when it was last updated.
DENVER — On-duty police officers blowing through red lights, driving too fast and smashing into innocent bystanders. An exclusive FOX31 Denver investigation uncovered a widespread pattern of traffic accidents caused by distracted on-duty officers.
We only counted incidents where police officers were "at fault" and were disciplined in the past three years.  We found:
— Denver police documented at least 308 of those cases.
— Adams County deputies dented and smashed their way to 53.
— Aurora police racked up about 80 preventable accidents.
— Colorado State Troopers damaged their cars or injured a citizen 219 times.
Some of the errors fall were the result of what could be called embarrassing mistakes, instead of poor or reckless driving.
For example, we found a crash caused by a trooper being distracted by a drink that spilled. Another about damage to a city-owned car because someone accidentally fired a shot through the seat and floorboard, documents showed.
Boulder Police Car vs. Bike
Many other incidents, like when a Boulder Police officer failed to see a young woman in a crosswalk, are more serious.
Satara Tucker, 21, was riding her bicycle through a green light along a well-lit Boulder street when, according to public records, a police cruiser cut in front of her near an intersection.
She didn't know, until we showed her, there was videotape of the officer's mistake, shot by his dash camera.
The video shows the police car turning left, then a body bouncing across the hood and into the street in front of the his headlights. A red Jamis Dakota bicycle tumbles down the middle of the street close behind.
Tucker said she was riding home from work near the University of Colorado campus. She saw the police car veer into her path, but couldn't stop in time to prevent her front wheel from crashing into the left front fender.
"I realize I'm up on the roof of a car. Had no idea what hit me. Ended up flying off the roof of the car," Tucker said.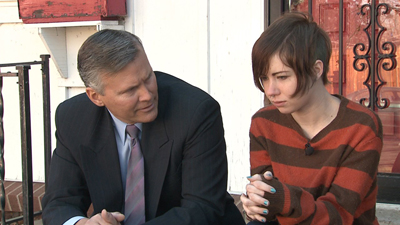 "I have nothing against the cop that hit me," Tucker said. "Just how they handled it was horrible."
Tucker said she is upset because she has medical bills from the accident including injuries to her back, leg and hip.
She says she needed medical treatment after landing on the concrete in front of the patrol car, but feared she couldn't afford an ambulance ride.
"Being super freaked out and never having to deal with anything like this," Tucker told Halsne. "I didn't want to go the hospital because I don't have insurance and I didn't want to suddenly owe thousands of dollars."
Police radio dispatch audio logs, acquired by FOX31 Denver under the Colorado Open Record Act, are void of any request to obtain medical treatment for Tucker on scene.
She says she called the police department a few days later to ask about them paying for her bent bike handle bars and some medical bills she incurred after the accident.
Instead of getting helpful advice or an apology, Boulder police sent her a $50 citation in the mail for failing to have a light on her bicycle.
She told FOX31 Denver she felt intimidated and disappointed.
"I think the ticket, coming a week and some days late, was a little funny," Tucker said.
How Denver Police Department punishes its own
Shane McHale was sent to the hospital after a Denver police cruiser cut in front of him. Photos show the car he was driving was heavily damaged.
"I didn't see him until we hit. Right on him. So quick. So fast. Scary," McHale said.
McHale said, although he wasn't in the wrong, he was scared Denver police would find him to blame anyway.
"This guy runs up to me and says, 'Dude you just hit a cop' and I look and there's a cop car in the ditch area. I was just thinking, 'I just lost the game of life.' In the game of life if you hit a cop car you lose. That's it. Going to jail – never being out of debt in my entire life," McHale said.
To his relief, accident investigators cleared McHale.
The final report says he had the green light — was sober — and driving a Nissan Altima down Corona Street within the speed limit.
According to public records, Denver police officer Chad Sinnema admitted he was momentarily distracted and did not have his emergency lights or siren engaged.
FOX31 Denver discovered this was the officer's second at fault crash within two years.
Sinnema wasn't issued a traffic citation in either case, but was docked three days' pay (and asked to attend remedial driving training) following the accident with McHale.
https://twitter.com/iragross3/status/430788948344840192
The situation still irks McHale, who laughed when we told him Sinnema's punishment,
"What? That's like a long weekend?" McHale asked.
He added, "Something like that happens and I'm like, 'Wait a minute. Shouldn't you guys also have to kind of obey some laws?' It's irritating."
But the Denver Police Department defends its internal use of fines saying officers involved in preventative accidents actually pay more than a citizen would for the same offense.  They use a points system to keep track of traffic violators within its ranks.
"We're able to address punishment and correct the behavior hopefully," said DPD Sgt. Steve Warneke. "(And) quickly without having to wait for a cumbersome court process to come to a conclusion."
There are costs to taxpayers beyond replacing and repairing all those dented or wrecked police vehicles.
According to the City Litigator's office, in the past three years, Denver paid out about $146,000 to repair citizens' cars struck by police.
There are also claims that remain unsettled. One is an accident where a mother and her 2-year-old son were sent to the hospital after being rear-ended by a Denver officer. That victim declined our request to speak about her legal case.
We asked Sgt. Warneke if 308 accidents, including 136 cases of careless driving, 106 issues with backing and 21 incidents of driving too fast for conditions is acceptable.
"We would ideally never want to be in an accident. That's not going to happen," Sgt. Warneke said. "If you look over time, that's not an unusual spike compared to where we usually are, but that doesn't mean currently we are not attempting to bring those numbers down."
Correction: After viewing this report, the Adams County Sheriff's Office requested a clarification. The data it provided to FOX31 Denver included non-preventable cases of vehicle damage. The number of preventable accidents is 53 not 115.