This is an archived article and the information in the article may be outdated. Please look at the time stamp on the story to see when it was last updated.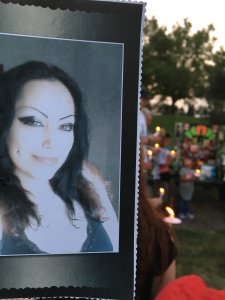 DENVER — 28-year-old mother of four, Marina Placensia, died on a passenger train somewhere between Chicago and Denver.
Now one year after police discovered her battered, broken, and bruised body inside an Amtrak car, Placensia's death is still officially listed as "undetermined."
"We lost an amazing person," her brother Christopher Medina told FOX31 during a family memorial on the anniversary of Placensia's passing. "We still have no answers. My sister is still, her autopsy is labeled undetermined. Still to this day. We don`t have a single answer. That`s what we`re trying to find out: is what really happened to her? Can we get an answer, so we can get some kind of closure, please?"
Dozens of those closest to Placensia gathered earlier this month with every good intention of laughing, lighting candles, and celebrating her life on the anniversary of her death.
As it turned out, a year is not long enough to extinguish the incredible pain still burning inside her four young children, brothers, sisters, mom, and friends. Tears and sounds of anguish filled the park near sunset.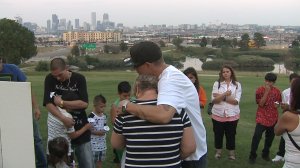 FOX31 was invited to attend, in part, due to its exhaustive investigative work linking Placensia's multiple injuries, documented during a post-mortem autopsy, to a reported domestic assault prior to her death.
The last picture of Placensia, taken moments before she boarded Amtrak near Milwaukee, Wisconsin on her way to visit her Denver-based family, shows a deeply bruised face.
A Racine, Wisconsin neighbor of Placensia's told FOX31 Problem Solvers she saw Marina being assaulted in her driveway by her live-in boyfriend within about a day of her leaving town on the train.
"He was beatin` her. Them slaps were so hard, it was disgusting. I mean, it was disgusting," Lana Martinez said. "He didn`t just hit her, like, he hit her with hate."
The Denver Medical Examiner documented dozens of injuries to Placensia, including ten broken ribs and bleeding between the skull and brain. However, after much deliberation, decided none of the injuries on their own, would have killed her.
A Denver Police Department spokesperson, Doug Schepman, recently responded to FOX31 about the ongoing investigation.
Schepman wrote, "Investigators are still working on this case and it remains an open death investigation. It sounds like the cause of death remains undetermined, but suggest you confirm that with the coroner's office. DPD wishes to respectfully decline an interview regarding this case as publicly sharing details about the ongoing investigation and process could jeopardize the investigation moving forward."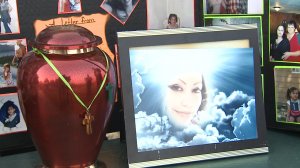 The slow progress of the death investigation is maddening to Placensia's brother, Daryl Mendenhall.
Mendenhall told FOX31, "Without closure, how can you grieve? We are still left with questions. Not a whole lot has changed in the last year."
"It's very frustrating and get more emotional as the days go by, knowing that everything that happened to her," sister-in-law Bobbi Rael said. "I'm going to keep trying to get justice for her. For her and her children."
Placensia's boyfriend and father to three of her four children, Angelo Mantych, declined to speak with FOX31. However, through family intermediaries, wanted to relay he had nothing to do with Placensia's death.
Court and police records show Mantych was previously convicted of domestic battery on Placensia and spent time in jail for it.
According to transit records, Mantych was on the Amtrak train overnight with her when she died.
Racine police and prosecutors have repeatedly refused to go on-camera with FOX31 Problem Solvers or answer our questions about why they did not appear to fully investigate the alleged assault allegations brought to their attention by Martinez in late August 2016.
And although those agencies have not announced their intentions, Placansia's family recently received a voicemail message from a Denver detective assigned to her death investigation, telling them the Wisconsin justice system has decided to not file charges.
The voicemail said, "Got an email this afternoon. Racine DAs are not going to file charges. We`re still throwing around ideas here too, but I don`t want to give you any false hope."
Rael told FOX31 she`s not going to give up and will keep pushing police and the Denver Medical Examiner to refile Marina`s death from the current "undetermined" to "homicide."
UPDATE:
Colorado social services have placed Placensia's four children (all under the age of ten) in confidential foster care homes, declining to allow Mantych full custody or unsupervised visitation. FOX31 was able to speak with the children at the family anniversary memorial.
Court records show Placensia's extended family in Wisconsin (dad and four aunts live near Racine) have applied for full custody of the three boys and one girl.
At least one foster care family in Colorado has also petitioned the courts for custody of several of Placensia's boys.
Editor's note: Although our previously published story, May 3, 2017, contained a video clip of the full version of our investigation "Death on a Train," a large number of viewers asked we provide a written text. Follow this link to read the full text of that television story.
RELATED: Unsolved death on Amtrak train "frustrates" medical examiner