This is an archived article and the information in the article may be outdated. Please look at the time stamp on the story to see when it was last updated.
COLORADO SPRINGS, Colo. — Six months after a gun battle took the life of El Paso County Deputy Micah Flick the coroner has officially released the cause of death.
Clearly stated with one word: homicide.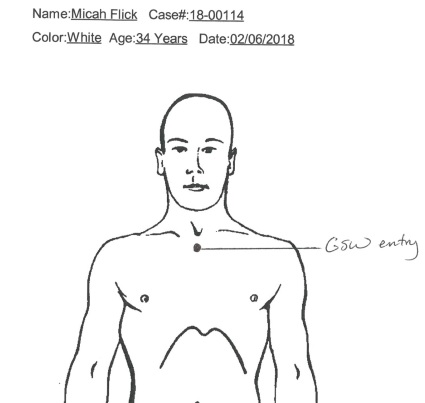 The medical examiner concluded a single bullet entered flick's heart through his upper chest. Gunpowder residue reports show the bullet was fired at "close range" and in an area not typically protected by a soft body armor ballistics vest.
A second autopsy related to Flick's murder, also released Friday, shows the killer, 19-year-old Manuel Zetina, had methamphetamines in his system and a "pipe" in his pocket.
El Paso County Coroner Robert Bux had been petitioning a district court to block the release of Flick's autopsy reports. Bux said in court documents that "this is an extraordinary situation — where release would do substantial injury to the public."
That raised some alarms with a consortium of media groups, including FOX31.
Media law attorney Steven Zansberg of the Ballard Spahr law firm filed a motion to force the release of what is normally an open, public record.
"I don't want to demonize this county coroner, I think he has a seriously erroneous view of the law," said Zansberg.  "In this case there were serious questions about who killed who and how. The presumption is that all of these official records that show official conduct are available to we the people to inspect."
There was a court trial set for next week to hear legal arguments in front of a judge between media lawyers and the El Paso County Coroner's Office, but that's been canceled now that the coroner voluntarily released the documents prior to the hearing.