This is an archived article and the information in the article may be outdated. Please look at the time stamp on the story to see when it was last updated.
DENVER — A previously closed use of force investigation into a small group of Denver Police officers, accused of roughing up a suspect and his pregnant girlfriend, will get a second look following a FOX31 Denver investigation.
The internal affairs unit of the Denver Police Department Tuesday began proactively reviewing circumstances surrounding the Aug. 14 arrest of a drug suspect in a parking lot near West 5th Ave. and Federal Boulevard.
We obtained video, shot by a bystander on his tablet, which raises questions about the accuracy of the officers' written statements that day.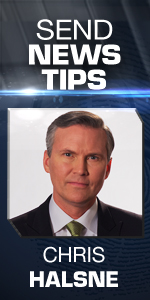 The video shows two undercover narcotics agents and two uniformed officers trying to retrieve a sock out of the mouth of a Honduran immigrant named David Flores.
Police reports said the group stopped Flores after seeing him buy what they believed to be heroin.
Officer Charles "Chris" Jones IV can be heard yelling at Flores to "spit the drugs out!" Jones then punched Flores in the face six times, causing visible injuries to his face and head.
Flores' 7 1/2-months pregnant girlfriend, Myara Lazos-Guerrero, can be heard on video screaming at officers in Spanish for them to stop hurting him. When she approached the scrum, Jones did a leg sweep on her and she fell hard on her protruding stomach and face, the video shows.
Levi Frasier was recording the incident on his tablet. He said police seized the tablet over his objections, threatening to arrest him if he did not cooperate. When the tablet was returned to him, Frasier claimed the clip was missing. He later found the arrest video on his cloud media storage.
In an exclusive interview with FOX31 Denver, Frasier said, "I didn't give it to them at all. I went back to the van and grabbed it and as I was walking up — it was taken out of my hand."
Frasier claimed Denver officers violated his civil rights and federal law when they searched his personal photos file without a court order.
Legal experts said Frasier has a right to be angry. Police cannot, except in rare circumstances, seize your mobile devices without a search warrant.
A June Supreme Court ruling, Riley v. California, greatly limits under what circumstances police can look into a persons cellphone or tablet digging for evidence.
"They crossed the line – absolutely!" said Flores' attorney Benjamin Hartford.
He said both the suspect getting punched and his client are victims of Denver Police abuse.
"If you make a mistake or go too far as an officer and if you own it and say it — then you're going to be in a much better position than if you conspire to cover it up or justify something improperly," Hartford said.
Hartford called Frasier a "hero" for stepping forward, saying, "If they had been successful in deleting this video, the case stands, and who is going to question them? They're the police. The Denver Police Department, in my opinion, has a systemic problem that they have to deal with."
Aya Gruber, a University of Colorado Boulder Professor of Law, said police can threaten and intimidate citizens who have video.
That's technically legal.
However, it is against the law to seize a camera, tablet or cellphone without a judge's signed warrant.
"Police are still going to ask, if you're filming them, if they can see what you did. Or they're going to tell you to stop. Or you better delete that," Gruber said. "There's nothing preventing them from doing those things. What they can't do is say, 'You have to give me your cellphone. I'm going to look through it.' That's what they can't do."
Gruber said constitutional law allows police to look into pockets and purses, but the Supreme Court drew the line at unfettered access to personal electronic storage devices.
"Your cellphone contains the most intimate information of your life. It contains your passwords, social security numbers, bank records, everything, so the Supreme Court did not want to give police broad authority to access that without any oversight," Gruber added.
That's a message that Levi Frasier hopes Denver Police start hearing.