This is an archived article and the information in the article may be outdated. Please look at the time stamp on the story to see when it was last updated.
DENVER –The deaths of three babies at Colorado daycare's over the last 18-months have prompted new rules from the State Department of Human Services.
Now anytime a daycare provider is cited for a Safe Sleeping violation, parents whose children attend the daycare center or home daycare , will be notified by the state.
An investigation by the FOX31 Problem Solvers discovered a three-month old, a nine-month old and a one-year-old all died at home day cares since 2016 related to unsafe sleeping conditions.
"The information and the hidden danger around that is scary and that`s why this policy is so important for us to get out there," said Brian Conly, the Deputy Director of the Office for Early Childhood in Colorado.
FOX31 first told you about the death of one-year old Karsen White after Denver police were called to the home of Stephanie Hill on June 5.  According to Hill's arrest affidavit, she found White "entangled" in bed sheets and her body was "listless."
The Coroner said the cause of death was undetermined but the Denver District Attorney charged Hill with Child Abuse Resulting in Death.
Prosecutors believe White suffocated to death after being left alone for hours in a pile of sheets, a known safety hazard.  The state not only requires all daycare providers to review Safe Sleep procedures on an annual basis, it had already cited Hill in October of 2016.
Eight months before Karsen White died, child investigators did a random inspection of Hill's home and discovered White had been left napping in her car seat inside Hill's home for at least 30-minutes.
But child welfare investigators never told White's parents about the October violation.
"As a parent of three, that's information I want to know," said Shane McNulty, who with his wife, operates ChildSafeChildProofing, a company that provides safety tips to parents.
McNulty says knowledge is power for parents and is glad Colorado has implemented new procedures, "If my child was in that same situation then I would use that information to make a better decision or a more informed decision for the future."
McNulty says if Karsen White's parents had known about Stephanie Hill's prior violation, it's possible they might have chosen to take their daughter elsewhere.
"It wasn't our policy at that point in time so hindsight is always 20-20," acknowledged Deputy Director Conly.
Since the policy went into effect August 1, Conly says the state has already notified 41 families about unsafe sleep violations found at 4 different daycare's, one in Broomfield, one in Colorado Springs and two in Littleton.
"One of the most significant reasons why we wanted to notify our parents quickly about safe sleep issues and safe sleep violations is because these are preventable deaths. It`s as simple as that," explained Conly.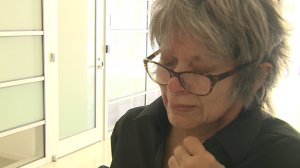 The Problem Solvers spoke to Hill at a recent court hearing where she offered condolences to the family of Karsen White.
"My heart is broken for the family, I'm sorry, I can't talk," said a sobbing Hill before walking into her Advisement hearing.
The longtime babysitter faces four to sixteen years if she's convicted on the felony count.
You can look up your child's daycare license history here.
If parents observe a safe sleep violation in their child care facility, they should report it to the Office of Early Childhood by calling 303-866-5958.