This is an archived article and the information in the article may be outdated. Please look at the time stamp on the story to see when it was last updated.
COLORADO SPRINGS, Colo. — There's no way to overstate the wrong that's been inflicted upon Brad Pitman. The 44-year-old never got to see his children grow up because of a crime now known he didn't commit.
His parental rights were terminated in 1997 because El Paso County social workers believed he sexually assaulted his then-4-year-old daughter in Colorado Springs.
Pitman was never arrested, but that didn't matter to a family court judge, who approved the termination recommended by the El Paso County Department of Human Services.
On June 16, 1996, a stranger broke into an apartment occupied by Pitman's ex-wife, 4-year-old daughter and 6-month-old son.
According to the El Paso County Sheriff's Office, the suspect gained entry through an unlocked window in the middle of the night, entered the girl's bedroom and sexually assaulted her.
According to a taped interview obtained by the FOX31 Problem Solvers, one day after the attack, the girl told a detective, "He hurted me when I was sleeping in bed and I started screaming for mom and she hear me screaming and the stranger walked out of my house to mom's room and jumped out her window."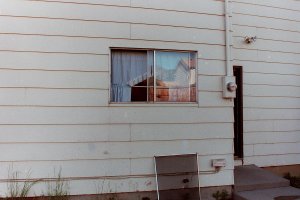 Deputies dusted the windows for fingerprints and recovered a left palm print on a kitchen window screen.
"There was forcible entry to the residence. It was a stranger that probably committed this crime," remembered Lt. Chery Peck, the first law enforcement investigator on the scene.
"I had asked (the 4-year-old girl) that, if it was somebody that she knew and she said no. She had never seen the person before."
During the videotaped interview with a detective on June 17, 1996, the victim wasn't able to give a good description of her attacker, saying, "I don't know what he, he maybe looked like my dad. He maybe has skin like brown like my dad."
Peck isn't surprised the girl would compare the attacker to her father.
"That's the male figure in her life that she knew at the time," Peck said. "That's who she compared this individual to because it was a male that committed the crime."
"The word she used in the one interview was 'dark' like my dad. At the time I was framing houses so I was really suntanned," Pitman said.
The 24-year-old had just separated from his ex-wife two weeks before the attack and was living with friends across town.
His ex-wife called him moments after the break-in to say their daughter had been assaulted.
Pitman said he drove to the apartment and followed an ambulance to the hospital. Deputies would later replicate Pitman's drive to the apartment to prove he could not have attacked his daughter and still drive home fast enough to receive a landline phone call from his ex-wife.
But a few months later, his daughter's story changed. In a videotaped interview from February 1997, his daughter told a therapist hired by the El Paso County Department of Human Services "that's what my dad did … hurted me."
"Repeatedly ask a 4-year-old 'did your dad do it' I think sooner or later they're going to believe you did it," Pitman said.
Pitman was never arrested, but court records show social workers wrote, "Mr. Pitman will take responsibility for the sexual/physical abuse" adding "Mr. Pitman is to participate in a psychological and/or sex offender evaluation."
When Pitman refused, insisting he was innocent, the El Paso County Department of Human Services filed a motion for termination, taking away Pitman's parental rights to his daughter and baby son.
"I've been in prison for 20 years now. That's more or less what it feels like. I might not have went to jail, but I've been in prison for 20 years," Pitman said.
The 44-year-old was only fully exonerated because of a federal grant given to New Jersey State Police in 2014.
Investigators were able to go back through old physical fingerprint cards nationwide and add them to a digital database.
That's when the fingerprint from the the 1996 Colorado Springs sex assault was linked to a 1998 burglary in Garland, Texas, committed by Joel Market.
Market was stationed at Fort Carson Army Base in 1996, less than a mile from where the 4-year-old girl lived.
In 1996, the same neighborhood had seen five other break-ins, some that were sexual in nature. At the time, deputies released a composite sketch of a black male but never identified a suspect.
Investigators said they suspect Market committed all of the crimes but the statute of limitations expired on every crime except for the one involving Pitman's daughter because she was a minor.
In October 2016, the fingerprint from the kitchen window screen would help convince a jury to convict Market of sex assault on a child. In January, an El Paso County judge sentenced Market to 24 years in prison.
"It is the nightmare that everybody thinks about, it was a stranger breaking in, in the middle of the night and assaulting children," said El Paso County Assistant District Attorney Justin Vasquez.
"The entire family really suffered from that. He didn't take anything from the house, but he robbed them of a life together."
El Paso sheriff's Det. Kurt Smith detective began investigating Market in 2014 after the fingerprint match.
"I feel for Brad," Smith said. "Even during trial, I believe there was still some belief that the father had done this and I don't think they fully believe that it was (Market), but I think they were starting to come to terms after he was found guilty."
Pitman has always suspected social workers shaped false memories in the mind of his daught and remains bitter the El Paso County Department of Human Services hasn't apologized for terminating the parental rights of an innocent man.
Rick Bengtsson's tenure at the department predates the 1996 sex crime, though he was not the director at the time of the attack. He is the person who could offer Pitman an apology.
"I'm not going to share in the media, acknowledge that we even have an open case," Bengtsson said.
When asked if it's not an open case and why can't the department apologize, Bengtsson said, "I'll just leave it as I will leave it as an open invitation anyone would like to meet with me, a citizen they are more than welcome to do that."
Bengtsson did offer to meet with Pitman.
"They messed up. Admit you did wrong," Pitman said.
Pitman did try reaching out to his now-24-year-old daughter on Facebook a few years ago but she told him she wanted nothing to do with him.
Even though Market has been convicted, Pitman said he can't bear the thought of being rejected again so he hasn't tried to reach out to his daughter again.