This is an archived article and the information in the article may be outdated. Please look at the time stamp on the story to see when it was last updated.
DENVER — An acting U.S. Attorney in Colorado on Monday signed off on a stay that orders Colorado Wildlife Services in Lakewood, a division of the U.S. Department of Agriculture, to halt the use of poison-ejecting devices M-44s.
A judge ruled so-called "cyanide bombs" can no longer be used on public lands in Colorado to control predator coyotes until the federal government studies the environmental impacts of the sodium cyanide they launch when triggered.
The FOX31 Problem Solvers first showed how the CWS used M-44s kill hundreds of predators.
Records show agents had been quietly placing the devices in fields and on Bureau of Land Management land to control coyotes.
FOX31 showed the potential dangers of leaving unmonitored M-44s near public hiking areas.
Canyon Mansfield, 14, nearly died after accidentally setting off one of the devices near his Idaho house. That March accident killed the family dog, Casey.
The federal ruling orders the USDA to study the harm cyanide bombs might cause the environment, and at the same time banned their use.
Monday's ruling is Colorado specific. The ban also, at least temporarily, prohibits the use of some other lethal predator control methods such as neck snares.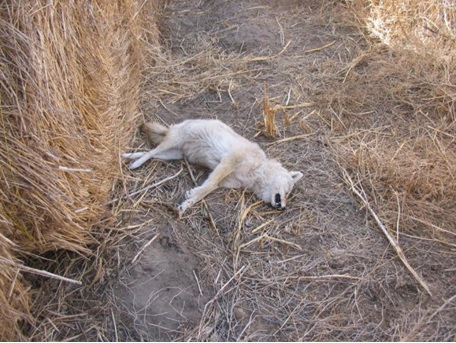 A separate petition and lawsuit, asking for a nationwide ban of cyanide traps has also been filed by WildEarth Guardians and the Center for Biological Diversity.
"What we're hoping to get to is fundamental change to the programs that makes it more humane, more accountable, that removes these outdated, disproven killing projects that they do," WildEarth Guardians attorney Stuart Wilcox said.
"We don't oppose them using certain methods, but these lethal methods they're using including M-44s? They don't work and they are unsafe for people, pets everybody so that's what we really want. And hope judges take notice and think about those things when they make their decisions as well,"
The Center for Biological Diversity said it hopes the federal ruling puts pressure on the USDA to do away with M-44s everywhere.
In December 2016, Colorado Parks and Wildlife approved two highly controversial plans to kill large numbers of black bears and mountain lions to assess the impacts on mule deer populations, according to the Center for Biological Diversity.
The plans charge Wildlife Services with carrying out much of the killing using public funds. Wildlife Services' involvement in the experiment lacks proper review as demanded by federal law.
"We're thrilled that Colorado wildlife are getting a break from Wildlife Service's deadly work," said Collette Adkins, an attorney with the Center for Biological Diversity.
"The additional analysis spurred by our lawsuit will reveal that Wildlife Services' wildlife killing is scientifically unsound, ineffective and cruel."
"M-44s will not be used on public lands — this is what's in the stay that was filed today," USDA public affairs specialist Tanya Espinosa said in an email. "However, it's important to realize that Colorado has not allowed the use of M-44s on public lands since 1996, so they are not used on public lands.
"M-44s may only be used on private property with written permission of the land owner or manager, and then only for 30 days in a calendar year.  When M-44s are used, signage is posted at the entryway and within 15 feet of the M-44 to ensure notification that the device is located close-by."