This is an archived article and the information in the article may be outdated. Please look at the time stamp on the story to see when it was last updated.
DENVER — Critics call them cyanide bombs. The U.S. Department of Agriculture calls them M-44s.
No matter the name, they are controversial, indiscriminate killing-devices, aimed at wiping out predator coyotes.
The M-44 is a spring-loaded mechanism that, once set vertically into the ground, looks like a thumb-sized, metal sprinkler head.
Federally authorized agents bait the devices with rotten meat or other canine attractants.
When any animal nudges it, sodium cyanide powder is shot up to 5 feet into the air.
The poison kills virtually anything in its proximity: coyotes, foxes, pet dogs, feral dogs, bears, and wolves to list a few.
Unlike scenarios where wildlife agents visually spot, then shoot, identifiable predators with firearms, the M-44 works independently without human oversight.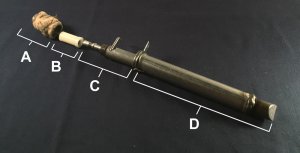 They are placed on open ground and left unmonitored for days, weeks or months at a time, according to documents.
When planted in hiking areas or within walking distances of residential homes, the cyanide-ejecting traps have proven deadly for domestic pets and injurious to humans.
The USDA has told congressional investigators that such accidents are rare and the agency promised to study potential, new safety improvements.
A sweeping FOX31 Problem Solvers investigation into the use of M-44's steel leg holds and strangling neck snares by federal wildlife employees found various traps are maiming and killing tens of thousands of targets every year.
At times, the targets were not intentional.
USDA Wildlife Division agents set 16,414 M-44s last year in 14 states, the majority in the Rocky Mountain region.
In 2016, Colorado Wildlife Services reported killing 60 coyotes (up from 23 in 2015 and nine in 2014) with M-44s.
In addition, CWS accidentally killed a red fox and a swift fox with M-44s. The swift fox is listed by the USDA as a protected threatened species.
Wyoming reported killing 236 coyotes and 65 red foxes with M-44s in 2016.
New Mexico has been the most prolific user of M44s, according to federal records.
In the past two years, New Mexico Wildlife Services killed 1,720 coyotes with poison traps, along with nine dogs, 34 gray foxes, 16 swift foxes and four kit foxes.
While the livestock industry and the USDA continue to support and even ask for growth of the M-44 program, public pressure to eliminate their use is mounting.
The following investigation delves into why.
Predators targeted; collateral damage impossible to avoid
The use of M-44s, covertly set by agents at Colorado Wildlife Services in Lakewood (a division of the USDA) to kill coyotes might poison people and pets instead.
Because the devices lay loaded with poison capsules, peeking out of the ground without any person watching over them, they kill whatever curious creature that wanders by.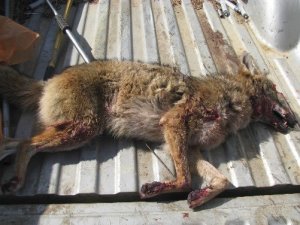 M-44s are planted all over Colorado as well as Arizona, Montana, Nebraska, Nevada, New Mexico, North Dakota, Oklahoma, Texas, Utah, Virginia, West Virginia, Wyoming, on tribal lands in California and until recently Idaho.
Hidden in fields, pastures, grazing areas and on federal land, the primary purpose is to poison "canine predators" and protect private ranchers' livestock.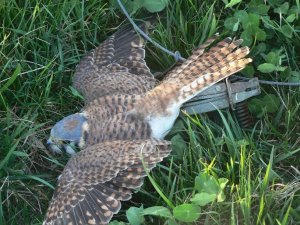 The M-44 is only one of several deadly methods authorized by USDA to eradicate wild canines.
Shooting animals with guns is the most common method, while the setting of steel leg holds traps and strangling neck snares follow in frequency.
In 2016, the USDA claims to have killed more than 77,000 coyotes, 3,680 foxes, nearly 1,000 bobcats, 415 wolves, 410 bears and at least 203 dogs under its predatory control programs.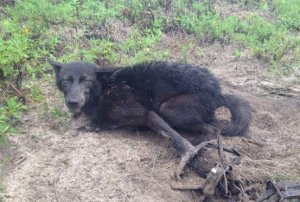 Graphic pictures, recently released by the USDA under a Freedom of Information Act request to the Center for Biological Diversity, detail some of the captures and kills of bobcats, hawks, dogs, coyotes, foxes and other mammals.
In one photo, an unidentified man wearing a USDA shirt holds up a dead coyote like a hunting prize.
Another photo shows a black dog caught in a steel leg hold.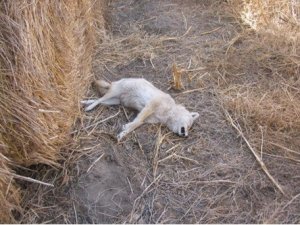 Other pictures independently obtained show multiple dead coyotes, labeled as "killed with poison" by M-44s.
Federal documentation on "intentional" wild canine kills is easier to come by than records of fatal or near-fatal accidents caused by the "unintentional" triggering of M44s.
Case in point: Canyon Mansfield and his yellow Labrador, Casey.
M-44 kills pet, exposes teenager to cyanide poisoning
Mansfield, a 14-year-old high-schooler from Pocatello, Idaho, had been hiking up the hill behind his house for as long as he can remember.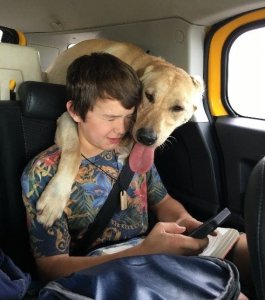 Along a ridge at the top, within eyesight of the family residence several hundred yards away, sat a lush, gently sloping field of grass.
The peaceful area had always been his sanctuary; he said his prayers there, did homework and played ball with his best pal, 3-year-old Casey.
In March, Canyon stumbled upon what he described as a "sprinkler" tucked between a small rock pile.
Canyon said he knew that land like the back of his hand; the piece of metal didn't belong.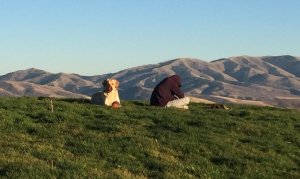 "At first, I thought it was a piece of garbage," Canyon said. "I reached down and touched it because you don't know it's something dangerous.
"I mean, it's on, right by our house? So I reach down and touch it and it expels gas over my face and it goes in my left eye."
Canyon ran to a snowbank and started wiping his face, hoping to stop the incredible burning sensation.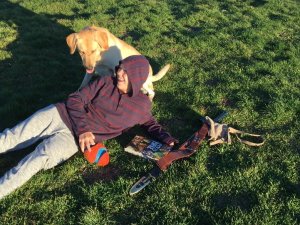 It was then that he looked over to see his dog writhing in agony on the ground having what looked like seizure.
"Instantly my stomach clenched. I knew something was wrong," Canyon said.
Within a few minutes, Casey was dead from the discharge of an M-44.
Canyon ran to get him mom, Theresa, who called his father, Mark Mansfield. He rushed home from his medical center, utterly confused.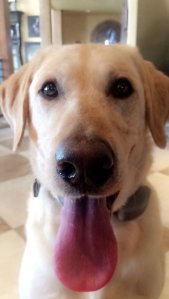 "I went straight to the dog. He was in the sagebrush," Mark Mansfield said. "I'm doing chest compressions. I thought, OK, maybe I should breathe for him a little bit.
"So I laid him back and went to breathe for him and that's when Canyon saved my life. That's when Canyon said, 'Don't dad. Don't. Don't put your mouth on his mouth. I think it was a poison. Don't do it. You'll die.' So, I stopped."
When the sheriff's office arrived, they searched the field and found a second, still-set device nearby.
It took nearly an hour for deputies to determine what the "sprinkler" really was: An M-44 placed in the field by Wildlife Services — Idaho.
Canyon was taken to a hospital and treated for sodium cyanide poisoning.
He had serious side effects for more than a month, but he survived.
Mark Mansfield remains furious.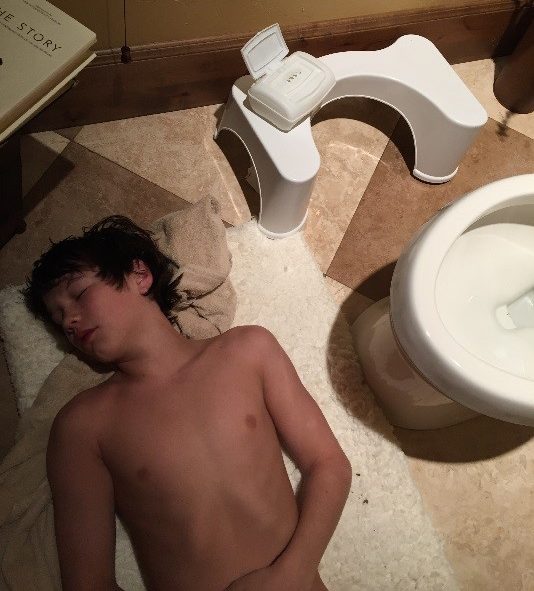 "Any logical human being would get rid of those things," he said. "Because the risks do not outweigh the benefits. It's way too risky.
"The liability is my son. They hurt him. They hurt him badly. He hurt so bad. He had headaches every night for a month. His hands went numb. He didn't sleep for a month. Try not sleeping for a month."
A federal records request for the USDA-created Mansfield incident report reveals virtually nothing.
Details of what happened were redacted before it was released.
RELATED: Redacted document 
An April 11 email between Fort Collins-based assistant regional director Mike Yeary and USDA Wildlife Services-Idaho supervisor Todd Sullivan makes it clear they received the accident report, but a government censor redacted every word.
Yeary did not respond to a request to speak about the M-44 program, the email or the Idaho accident.
Another USDA email obtained by the Center for Biological Diversity admits the M-44 that killed Casey was placed on Bureau of Land Management land.
That's significant because on Nov. 22, 2016, the USDA announced it had discontinued "all use of M-44s on public lands" in Idaho.
RELATED: USDA announcement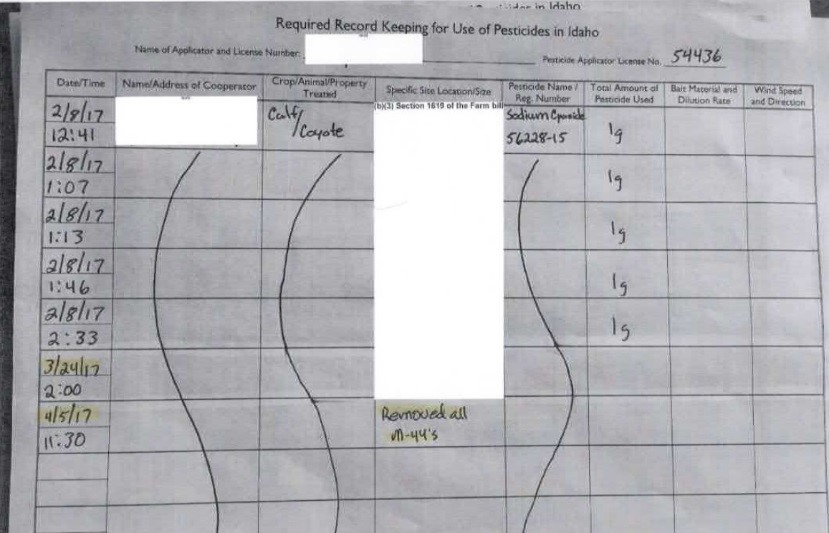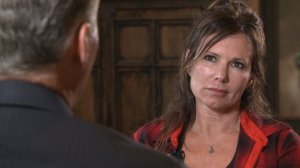 Placement logs show not only did Wildlife Services-Idaho ignore that decision and finding by setting three M-44s on the public land behind the Mansfields' house, it planted hundreds of other new devices for at least five months after its promise to stop.
"I'm at a point where I really question the government and wonder how many secrets there are," Theresa Mansfield said. "There's a lot of things I don't understand anymore.
"What do you need? A coffin? Because that's what's going to be the next thing. Someone is going to come here with a coffin and the blood is going to be on your hands."
USDA attempts to control message while getting sued over M-44 use
Colorado Wildlife Services and the USDA declined repeated requests for an interview. A request to speak with a predator-control expert of the USDA's choosing was also denied.
"Unfortunately, we need to decline your request for an on-camera interview because this issue is still under review," spokeswoman Tanya Espinosa wrote.
The USDA's talking points distributed to federal public relations specialists after the Mansfield accident stress M-44 guidelines.
"The M-44 device shall not be used in: Federal lands set aside for recreations use or in areas where exposure to the public and family and pets is probable," according to the memo, adding, "compliance with this rule requires common sense and good judgment."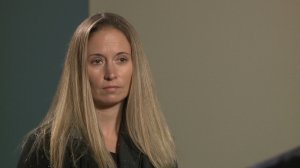 Andrea Santarsiere, a senior attorney for the Center for Biological Diversity, said the public relations spin after the Idaho M-44 pet fatality shows the USDA is out of touch.
"I don't think there is anywhere on Earth where these devices should be used because they are so inhumane and so indiscriminate and really do threaten public safety," Santarsiere said.
Her organization, along with other conservation and animal-rights groups including WildEarth Guardians, the Humane Society of the United States and the Sierra Club, recently filed a petition with the Environmental Protection Agency asking it to ban the distribution of sodium cyanide capsules to wildlife agents.
RELATED: Petition to the EPA to ban M-44s
"It's hard to defend," Santarsiere said. "How to defend the fact you're putting cyanide bombs on the landscape. Not telling people where they are.
"They're indiscriminate. They're inhumane. They are complete threat to public safety. How do you defend that?"
The American Sheep Industry Council, based in Denver, is doing just that.
Spokesman Chase Adams said two kinds of M-44 devices are "an effective, inexpensive, and popular" predator-control tool for livestock operators.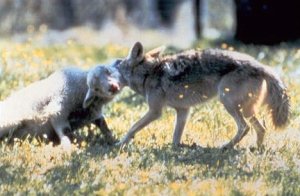 Adams said ranchers utilize the standard M-44 trap, but also "livestock protection collars."
That device is recommended to be placed around the neck of some of the lambs in a larger herd of sheep.
The collar is full of sodium cyanide. When a coyote or other predator attacks, it typically lunges for the neck of its prey.
When the coyote's teeth pierce the collar, poison is released into its mouth, causing death.
The livestock industry claims in 2014, coyotes were responsible for 118,032 lamb and sheep deaths nationwide, a multimillion-dollar overall loss for ranchers.
The seemingly cozy relationship between the private agriculture industry and federal wildlife agencies is partially revealed in a series of training presentations.
RELATED: Montana M-44 presentation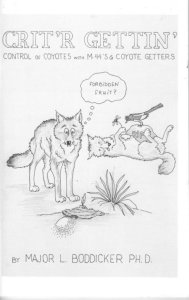 A Montana Department of Agriculture PowerPoint that includes a cartoon of a dead coyote under the heading "Crit'r Getting': Control of Coyotes with M-44s and Coyote Getters," says ranchers can get their own "applicator's license" to set M-44s.
It requires six hours of training, a test and a $50 license fee. Such licenses allow livestock owners to not only set M-44s on private grazing land, but on BLM land under their use.
In Texas, before federal employees can set M-44s, part of their training asks that they watch an educational "film," first produced in 1975.
The 50-minute presentation stresses cooperation with ranchers, but also the importance of placing poison signs near live M-44s.
RELATED: Sample of the Texas training film
Federal guidelines ask that agents post warnings in English and Spanish.
According to the Mansfield family, no such warning signs were in the field behind their home near the two M-44s set on the border between BLM land and their property.
"They can't be setting cyanide bombs in the areas where we live," Mark Mansfield said. "I can see 13 houses from the place I'm standing. I'm 5 feet from where the cyanide bomb was set. Any numbskull would know: Not a place to put a cyanide bomb."
Santarsiere said the warning sign rule is another example of the USDA's lack of understanding of the real dangers of M-44s to pets.
"I have a border collie. She's pretty smart, but she's not going to be able to read the sign," she said.
Purchase orders indicate expansion of M-44 programs in the works
Federal purchase orders showed the USDA doesn't buy the fully assembled M-44. It assembles and distributes the devices themselves.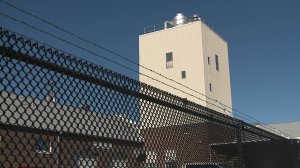 Records show the USDA purchases three components: The springs, the body and the capsules, and then has them shipped to the same address, a secure USDA facility known as the Pocatello Supply Depot.
A guard at the secure, barb-wire-topped facility said to put away the camera, while indicating the Wildlife Division staff wasn't in.
No one returned calls later, but Espinosa sent a statement regarding the Pocatello Supply Depot.
"The purpose of the Pocatello Supply Depot is to manufacture and provide specialized materials and services which are not readily available from private commercial sources," she wrote.
"These are typically products that are needed in such small quantities or at such infrequent intervals that commercial sources have not shown interest in providing them."
Invoices showed in 2016 the USDA bought 10,000 M-44 "ejector bodies" and "holders" from Northwest Die Casting of Tualatin, Oregon, plus 20,000 springs from Illinois-based Lewis Spring and Manufacturing.
Under records labeled "animal damage control," the USDA also recently paid $11,000 to Vista Outdoor Sales of Anoka, Minnesota, for 100,000 units of M-44 capsules made from clear polypropylene plastic.
Messages left with the three companies were not returned.
For an agency claiming to be cautiously proceeding with rules changes to make the M-44 program safer, the purchase orders indicate federal and state wildlife agencies plan to keep using tens, if not hundreds of thousands more M-44s to kill predators in the near future.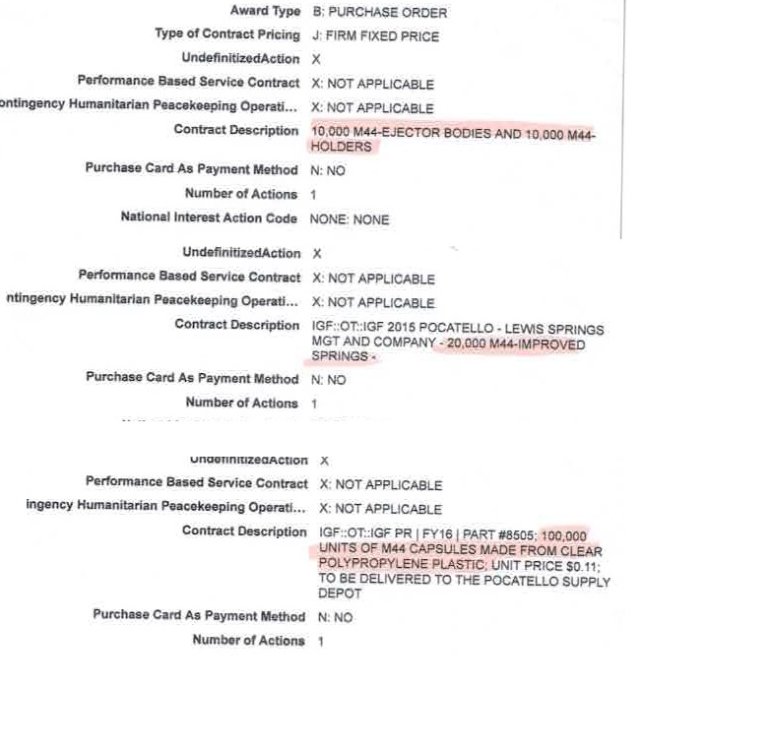 For those hoping the USDA would hear their concerns and consider suspending the M-44 program, the findings are disheartening.
"I would like him to see through Canyon's eyes what he saw. What he saw happen to his dog that day," Theresa Mansfield said. "As parents, you try to prevent them from watching horrible movies. From listening to music with bad words.
"He went to a Christian school.  And you try to hold onto his innocence as much as you can. And that day, the government took it away. The government took a huge part of his innocence away."