This is an archived article and the information in the article may be outdated. Please look at the time stamp on the story to see when it was last updated.
LAPORTE, Colo. — Plenty of residents living in Laporte's dog-friendly Rolling Hills neighborhood love animals. Chickens and horses prominently roam among large family homes, pens and yards.
But a man living on Moccasin Circle has some of his neighbors feeling threatened.
They say they are uncomfortable with the private property owner setting cage traps, placing unknown objects such as spikes into groomed ground, and according to police, allegedly setting out poison to kill skunks.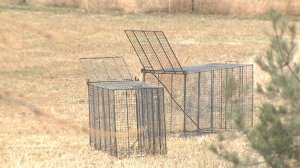 "The wildlife is not his to kill. That's why we live out here, to enjoy the wildlife, and I would appreciate it if he would stop killing the wildlife in our neighborhood," Michelle Timson said.
Timson called the FOX31 Problem Solvers after seeing the investigation into a federal program that uses "cyanide bombs," also known as M-44s, and other traps to kill coyotes.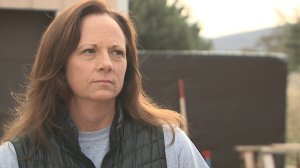 The report detailed accidents nationwide, one that nearly killed a Pocatello, Idaho, teenager and did kill his pet dog.
M-44s are described as looking like sprinkler heads stuck vertically in the ground.
The spring-loaded mechanism, with a sodium cyanide capsule implanted on top, can shoot fatal doses of poison up to five feet, typically into a wild canine's mouth or nose.
Timson said she did a double take the next time she looked over her short fence along the property line.
What she saw looked a lot like an M-44, covered in netting and paste, and surrounded by fresh fruit.
The placement of the out-of-place device was within her horses' reach.
"It bothers me because of the reports I've read of (M-44's accidentally exploding) happening to other children and pets," Timson said. "And my children are here daily, and I've had to move my livestock and lock my dogs up just in case it's loaded."
If it was loaded, that was her question.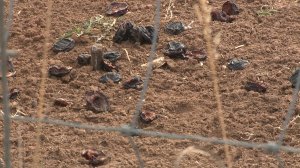 Last week, two Larimer County sheriff's deputies and an expert from the U.S. Department of Agriculture responded to investigate.
"They asked us to come and say, 'Could that be an M-44?' And all I can say tell you is that it could be," said the USDA investigator, who declined to provide his full name.
Some other property owner might get the benefit of the doubt that the suspicious object was benign, but the Moccasin land is owned by Dr. Major Boddicker.
Boddicker sells top-rated coyote callers online, and is considered a leading expert on cyanide bombs and the killing of predators.
His books about wild canine control include "Crit'r Gettin: The use of the M-44 and Coyote Getters."
"To me, it's just very dangerous," Timson said. "And I don't know what's on his property."
Boddicker did not respond to messages seeking comment.
The Larimer County sheriff directed inquiries to the Colorado State Department of Agriculture.
On Friday, the department told neighbors the unknown object "is not an M-44," but the agency only added to the mystery with another statement.
In a statement, the CDA said the matter "continues to be an open investigation for other factors unrelated to M-44s."
As of earlier this month, cyanide bombs, steel leg holds and neck snares to catch coyotes were banned in Colorado under a federal judge's order for use on public lands.
But the Laporte neighborhood scare has raised  an interesting scenario to those who oppose the poisoning of animals.
Erik Molvar, executive director of Western Watersheds Project, remains uncomfortable with the legality of planting M-44's on private land by citizens.
Molvar said even if the state investigation shows Boddicker wasn't using M-44's, in this circumstance, the uncertainty of all the what-ifs still has neighbors nervous for their pets and children.
"They're no excuse to have these kinds of poison land mines sprinkled around the landscape regardless of whether it's public land or private land," Molvar said.
"Sooner or later, somebody's pets, somebody's animals are going to be killed by them. It's almost inevitable."
"Wildlife Services did not place any M44's at this location and the state does not allow M44's to be used by private citizens," the USDA said.