This is an archived article and the information in the article may be outdated. Please look at the time stamp on the story to see when it was last updated.
DENVER — More than eight months after an investigation was launched into the transparency of Denver's top two police officers, there's still no word on when the director of public safety will issue her findings.
But critics already predict Public Safety Director Stephanie O'Malley will find no wrongdoing was committed by Denver police Chief Robert White or Deputy Chief Matt Murray.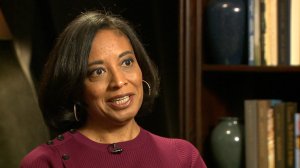 "I would be surprised if she found that there was wrongdoing, I just don't expect that," said Lisa Calderon, executive director of the Colorado Latino Forum.
Calderon and others have been cynical about the city's process for conducting what it calls an "independent investigation" to find out why White and Murray failed to turn over a letter to the Denver Police Protective Association when the union made a public records request for it in 2016.
Nick Rogers, president of the DPPA, said it would be "impossible" for White and Murray to forget they had received a critical letter from then-Denver District Attorney Mitch Morrissey.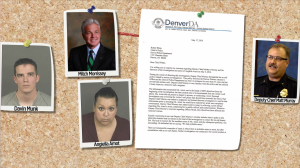 The June 3, 2016 letter written by Morrissey to White criticized Murray for his role in having Angiella Arnot arrested for sex assault.
Arnot was arrested along with Denver police officer Davin Munk after the two were accused of having unwanted sex with another woman.
Prosecutors declined to charge either Munk or Arnot.
"The information that exonerated Ms. Arnot was in the hands of DPD detectives from the beginning of the investigation. … Whatever Deputy Chief Murray's concerns regarding Officer Munk, they should not have affected this innocent woman," Morrissey wrote in the letter.
Days after he was cleared in May 2016, Munk said, "We even told her no means no."
After Rogers heard rumors that the Morrissey letter existed, he made a public records request for it only to basically be told White and Murray didn't have it.
"I was disappointed that the two top individuals in the Denver Police Department, the chief and the deputy chief would actually lie about something like that," Rogers said.
The letter eventually surfaced through media requests and the incoming Denver District Attorney Beth McCann launched an investigation into whether White and Murray violated Colorado's Open Records Act.
McCann would later decide she did not have enough evidence to charge either man with a misdemeanor.
Shortly thereafter is when the city announced it would conduct an independent investigation using the law firm Employment Matters.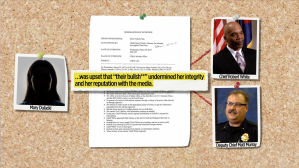 The law firm spent six months interviewing multiple witnesses, but the key witness was probably Mary Dulacki.
She's been the records custodian for the Department of Public Safety for more than 10 years. She is the person who asked White and Murray for the Morrissey letter when she received a public records request from the Denver Police Protective Association.
At the time, both men basically told Dulacki they didn't have the letter and didn't let on they knew of its existence.
It's not known what Dulacki told investigators with Employment Matters, but it's probably similar to what she told Denver prosecutors when they investigated White and Murray for the possible Open Records Act violation.
According to prosecutor notes, once Dulacki discovered White's secretary had the letter, Dulacki "was upset that 'their bullsh**' undermined her integrity and her reputation with the media," adding that White and Murray engaged in what "clearly is deception."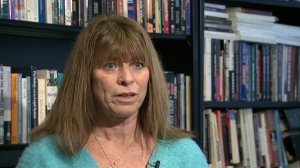 "It clearly rises to a level where most officers would have some type of disciplinary action," said Mary Dodge, a criminology professor with the University of Colorado Denver.
Dodge was surprised to learn the city of Denver spent $87,728 on an independent investigation but did not give Employment Matters the authority to make a conclusion.
Instead, the law firm handed its report over to the Denver Sheriff's Department of Conduct Review that will then make a recommendation to O'Malley.
"That seems crazy. We have the sheriff's office looking at what is already an independent investigation and why?" Dodge said.
Calderon also questions why the law firm wasn't allowed to reach a decision.
She said having O'Malley rely on the sheriff's department to make a recommendation about Denver's top two officers isn't really independent because O'Malley, Denver Sheriff Patrick Firman and White are all appointed by Mayor Michael Hancock.
"So essentially you have mayoral appointees who are policing themselves," said Calderon, who called the independent investigation "a waste of taxpayer money."
O'Malley wouldn't comment.
"This division of responsibility supports a fair and transparent disciplinary system that ensures one entity does not serve as fact finder, judge, and jury," the Department of Public Safety said in a statement.
But Calderon and Rogers suspect the city's process is designed to ensure a certain outcome, exoneration for White and Murray.
"(White and Murray) should both be fired," Rogers said.
When asked if he thinks that'll happen Rogers said, "I don't. I've been around here too long and I know how this political machinery in Denver works and it's reality."
White and Murray declined an interview request.
In a statement, the police department said "It would be inappropriate for the Department to comment on an ongoing investigation."
The Sheriff's Department of Conduct Review has had the investigative report since November.
It has yet to pass its finding to O'Malley.