This is an archived article and the information in the article may be outdated. Please look at the time stamp on the story to see when it was last updated.
PUEBLO, Colo. — Every inmate in a Colorado prison will have a computer tablet by the end of 2017. That's 18,000 tablets that inmates will be able to keep in their cell.
"I don't think it's something that society needs to be afraid of because we don't have all this access that they think we have," said Amanda Hall, an inmate the La Vista Correctional Facility in Pueblo.
The 45-year-old is serving time for cashing bad checks.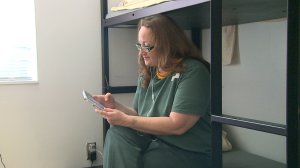 She points out the tablets don't come with internet access, so no Netflix or Google.
But the tablets allow inmates to make phone calls, send emails, write grievances, communicate with jail staff, order hygiene products and view their prison bank accounts.
Eventually, inmates will be able to download music and games.
Prisons also are being outfitted with monitors so inmates can have video visits with family members and friends.
Hall said that's a game-changer for her because her 3-year-old daughter lives in Montana with Hall's sister.
"I think it's amazing because my biggest fear is she's going to forget me," Hall said.
Virginia-based vendor Global Tell Link is spending $800,000 to outfit Colorado prisons with video monitors and tablets.
The company makes its money by charging inmates and their families for phone calls, emails, video chats, music and game downloads.
Phone calls are 12 cents per minute, emails are 25 cents each, 10-minute video calls are $4 and 25-minute video calls are $10. All phone calls and emails are monitored by prison staff.
A Colorado Department of Corrections spokesman said 99 percent of state inmates are eligible for release one day so maintaining family ties is critical.
"Video visiting assists in creating a foundation of family support and reunification providing opportunities for successful re-entry back into society with a solid support system," the department said in a statement.
"Video visiting provides the ability for face-to-face contact for those unable to visit as well as additional visiting time to strengthen family ties."
"It's more about reunification and building bonds back with the people with impacted through our crimes, not necessarily our victims but our families our children," Hall said.
"Video visitation has saved my state of mind. Just seeing my baby, seeing how big she's getting … she actually can see my face so she doesn't forget me."
The tablets are free to inmates, but if they break it, they are responsible for the $200 replacement cost.