This is an archived article and the information in the article may be outdated. Please look at the time stamp on the story to see when it was last updated.
DENVER -- More than a dozen alleged victims are warning consumers to stay away from a Craigslist mechanic accused of taking money for work he never did,  stealing engines and holding vehicles hostage.
Joe Cole of Aurora is one of Jack Truex's alleged victims. Cole is restoring a 1965 Ford Mustang he calls "Rosie."
He found Truex advertising on Craigslist and paid him $900 up front to rebuild "Rosie's" engine back in September of 2014. "He told me he would have it running in seven days," Cole said.
But Cole claims days turned into months, with Truex offering one excuse after another. "His son had football, his wife broke her leg, or he was in Wyoming or Utah." Cole said Truex stopped returning his phone calls and disappeared, with "Rosie." Cole told Investigative Reporter Heidi Hemmat, "I had a lot of sleepless nights."
Cole would later learn, Truex moved to different shops three times in just six months, from a garage on Valentia Street in Aurora to a storage facility at Dove Valley, then to a private residence where he rented the detached garage.
When Cole finally caught up to Truex, he required another $600 to release the car. "I paid the $600 just to get the car back," he said.
But Cole said "Rosie" was not the same. Her original 1965 engine was gone and replaced by a motor from another car. Cole provided before and after pictures to FOX31 Denver as proof. "He took my motor out and sold it to someone else," Cole said. "I got ripped off."
Bruce Hammond, also of Aurora, claims he got "ripped off" too. He paid Truex $900 to rebuild his truck engine. Instead, Hammond said, Truex spray painted the engine from black to red, and no other work was done.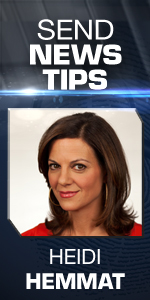 "So what's been done to your engine?" Heidi Hemmat asked, to which Hammond replied, "absolutely nothing."
Cole and Hammond are just a few of the alleged victims who are part of a Facebook page, "Avoid JNT Performance Motors and Jack Truex."
Many on the site claim they paid Truex for work he never did, or Truex stole parts, and refused to release their vehicles.
FOX31 Denver also learned Truex was convicted of theft in Denver County last year for stealing a motorcycle he was paid to repair.
We had some questions for Truex,  but when we went looking for him at his last known shop address, he was gone.
So a FOX31 Producer contacted him through Craigslist, and asked him if he could take a look at her car.
Truex responded right away. He sent his partner to tow her vehicle to an unmarked storage unit in Douglas County.
To be fair, Truex told our producer there was no repair needed on her car, and he only charged her for the tow.
Investigative Reporter Heidi Hemmat took that opportunity to ask Truex about the allegations against him. "There are more than a dozen people who say you took their money and didn't do the work," she said. "You held their parts and cars hostage…"
Truex  responded by saying, "That's not true, so please leave. Have yourself a nice day, kay?"
Meanwhile, Cole is one of several alleged victims who have filed police reports and lawsuits against Truex. The Arapahoe County Sheriff's Office is investigating.
The investigator would like to hear from more alleged victims. You can call him directly at 720-874-4058.