This is an archived article and the information in the article may be outdated. Please look at the time stamp on the story to see when it was last updated.
DENVER — It has been a delay-prone week for drivers attempting to do business at Colorado Division of Motor Vehicles offices.
The FOX31 Problem Solvers uncovered evidence that computer systems have crashed every day since Monday for hours at a time.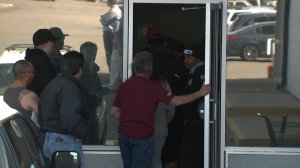 "It's very intense in there. People are really mad. People been waiting outside in the cold for a couple hours," Mandy Archuleta said in front of the Northglenn DMV branch.
On Monday, an undercover camera was rolling inside the waiting room when the computer system froze for hours, causing massive delays in the processing of photos.
An employee can be heard announcing to the room, "Our system is down. We can't take any of your documents. We don't know how long it's going to be."
On Tuesday, truck driver James Allen went to take his commercial driver's license test, but a computer crash forced him to return Wednesday. Then another computer outage made him come back again Thursday morning.
"I don't know what's going on in there, but it's not getting people to work, not moving people along," Allen said. "Not doing anybody any good."
Allen said he waited eight hours over a three-day period before getting the paperwork so he could do his job.
On Thursday morning, driver Parsa Khajehzadeh was hopeful, but his plight wasn't over despite being at the DMV for the second day in a row.
"I was here for three hours (Wednesday). Three hours! And now they say they'll be taking four people an hour today. It's going to be a long day," Khajehzadeh said.
Cameras captured the disabled and elderly stuck standing as DMV employees held people outside, waiting for the computers to restart.
Again, on hidden camera, DMV employees admitted the computer system had an ongoing problem.
Ben Maes had been waiting four hours without any idea of when his number would be called, when he approached the Problem Solvers.
"They said after 8 o'clock, everything crashes — all around the state. It's ridiculous," Maes said.
Archuleta said she'd never have waited through 5 1/2 hours of computer delays on Thursday to get her license if it was not about to expire.
"They just told us the machines are down — the camera machines. Down for about five days. I'm not sure what's going on. I've been here since 6:30 a.m. trying to get my license."
The Colorado Department of Revenue, the state agency that oversees DMV, first said there hadn't been any known computer outages.
Inside the branches, however, employees didn't get that denial memo. On an undercover camera, when a producer asked, "It's always this bad?" one employee bluntly stated, "Yeah. It's a normal day."
Just before business closed Thursday, a DMV spokeswoman emailed a statement admitting there has been an ongoing issue.
"We are aware of an issue with intermittent conditions that are causing delays at our camera stations," communications director Lynn Granger wrote. "We are working to determine what the issue is and we are focused on correcting it as soon as possible.
"We are committed to providing excellent customer service and we appreciate the public's patience and apologize for any inconvenience this may have caused."
David Perrone visited the Northglenn DMV branch on Wednesday, but he said officials told him to leave and come back Thursday because the computerized image system was frozen.
"The deal is the system is going down statewide," Perrone said. "They were taking four to five photos an hour and it was taking people four to five hours to get through the line."
Two years ago, taxpayers forked out $93 million to modernize licensing computers and software. The project was nicknamed DRIVES — the Driver License, Record, Identification and Vehicle Enterprise Solution.
In 2015, the Governor's Office of Information Technology was put in charge of upgrading DMV computers.
A spokesman for OIT declined to answer if its ongoing work was the root of this week's system meltdown, although did said the first phase of the $93 million project is completed and the second phase had started.
Khajehzadeh said he understands computer upgrades might be a difficult process, but he thinks the state should be more forthright.
"If you guys got a new system, don't try to keep going when it's not working. Take a day off and get it fixed. Don't have people waiting here for like six hours, you know what I'm talking about? Khajehzadeh said.