This is an archived article and the information in the article may be outdated. Please look at the time stamp on the story to see when it was last updated.
BAILEY, Colo. — With just three weeks until Christmas, a Bailey couple and their special-needs animals are hoping for a holiday miracle.
LuAnn Pierce and her husband Chris Brown moved to their mountain dream home about a year ago. They run a sanctuary for cats with special needs.
"We have cats from all over the country that nobody wanted," Pierce said.
One was born without paws, one has his hind legs fused together and the rest have a condition that doesn't allow them to go to the bathroom without human intervention.
Around 5:30 a.m. Sunday, Brown said the chimney was engulfed in flames and the fire rapidly spread. By the time fire crews extinguished the flames, there was almost nothing left of the home.
The couple only escaped with the clothes on their back. They also rescued their two dogs and seven cats.
"They're like kids," Pierce said. "They are very, very important. And we have to find the other three."
The couple spent Sunday evening searching the rubble and their property for the missing cats. It is unclear whether they made it out of the house or not.
"Our next step is to figure out where we're going to live and how to take care of the cats who have special needs," she said.
The cats can only stay with someone medically trained to take care of their conditions.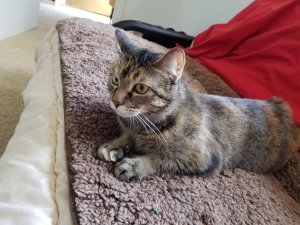 "Unfortunately, because of their special needs, they need a lot of hands-on care. And it would cost $450 a day to be boarded and get the care they need," Pierce said.
On top of housing, Pierce and Brown also need clothes, basic necessities and food. They are also in need of cat carriers, cat food, dog food and other animal supplies.
A family member started a GoFundMe account to help with costs associated with being displaced. Crow Hill Bible Church (63555 U.S. Highway 285 in Bailey) is also acting as a central drop off location for donations.