This is an archived article and the information in the article may be outdated. Please look at the time stamp on the story to see when it was last updated.
DENVER — Service pets are a lifeline for people with disabilities.
But a FOX31 Denver investigation found there is an increase in the number of people buying a license or certification that allows them to take their animal inside restaurants and on airplanes for free.
The American with Disabilities Act prohibits businesses from asking a person to prove their service animal is legitimate. Because of the lax law, dozens of websites are selling certifications and vests for a profit. It's a lucrative business for people cashing in on a lax law and an unfair money-saving convenience for able-bodied pet owners.
Life is one step at a time for multiple stroke survivor Natalie Hunter who relies on her service dog Kohlie for balance. Hunter said, "I can't do anything without her." Hunter told FOX31 Denver she has seen an increase in people passing off their pets as service animals. Hunter said, "It frustrates me. It absolutely makes it harder for me."
National Service Animal Registry is a website run out of a business located on Lake Avenue in Woodland Park, Colorado.
The website advertises that you can take your dog with you to restaurants, motels and airline flights at no extra cost simply by purchasing service animal certificates, vets and animal ID cards for $64.95.
The site also claims to specialize in emotional support animals for people with emotional or psychological difficulties.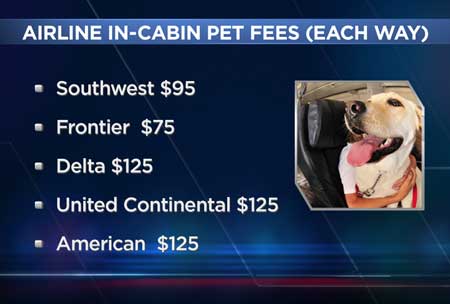 Most airlines allow an emotional support animal to fly for free in the cabin, if the owner provides a letter from a licensed therapist.
The website also sells the letter service for $164 with a link to Chilhowee Psychological Services. According to Chilhowee's web site, letters are issued to clients who complete an online test and a "series of telephone or Skype counseling sessions…"
FOX31 Denver wanted to know more about the process, so we asked a producer to take the test and answer questions about stress, eating and sleeping habits.
A woman named Michelle, who she was calling on behalf of Southerland Counseling, called twice to talk about conflict, crowds and coping. In a few days, a letter from Sutherland Counseling and Stanford Sutherland, a licensed professional counselor, arrived in the mail. The letter certified our producer as mentally disabled and affirmed her cat as an emotional support animal. We submitted our letter to United Airlines which approved our producer's emotional support cat to fly for free in the cabin until 2016.
FOX31 Denver had our own questions for the counselors at Chilhowee Psychological Services.
We went to the address advertised on their web page which is an office building in Woodland Park. Investigative Reporter Heidi Hemmat went inside an unmarked office door and said, "We are looking for Chilhowee Psychological Services."
We saw people in sweatshirts taking phone orders and a cabinet full of service animal vests and patches. An employee admitted there are no counselors at the location and a supervisor said she would call police if we did not leave.
Business Traveler Dave Marshall knows first hand what it's like to fly with a fake service animal. Marshall snapped pictures of s huge dog in a service animal vest taking up the leg room on a recent sold out flight. Marshall said, "Three of us had no where to put our feet. I fly over 100,000 miles a year and it's amazing to me the amount of dogs I see on airplanes now."
Marshall said the dog owner kept joking about how easy it was to get his pet on the sold out flight. Marshall said, "I specifically asked him, is this a service dog? And he just kind of chuckled and said, on paper he's a service dog." To the truly disabled it is no laughing matter. Hunter said, "It should be looked into as a crime."
It is a misdemeanor crime to pass your pet off as a service animal in some states, but not Colorado.