This is an archived article and the information in the article may be outdated. Please look at the time stamp on the story to see when it was last updated.
DENVER — The East High School cheer coach who is under criminal investigation for allegedly physically forcing teenage athletes into painful forced splits also runs nonprofit youth development program Mile High Tumblers Foundation.
Video show 28-year-old Ozell Williams is a talented tumbler, and shows him flipping across the University of Colorado football field in 2009 as part of the cheer squad.
But the FOX31 Problem Solvers found Williams has been inflating his resume.
According to the Tumblers website, Williams' biography claims, "he is an Olympic athlete having won 3 Team USA First place rings in preliminary games."
But a spokesman for the U.S. Olympic Committee said "Williams was never on any Olympic roster."
"Nobody has ever heard of him" and there is "no record of him being invited to the Olympic Gymnastics Trials, let alone winning three ring titles," USA Gymnastics said.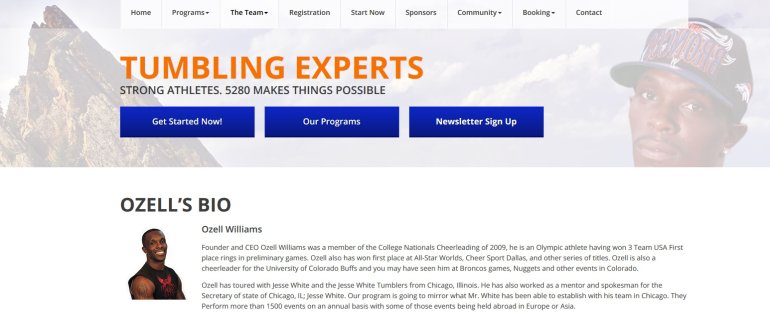 But that's not the only alleged boost to his resume.
Seemingly aimed at recruiting older male tumblers, the Mile High Tumblers website said the organization works with the Broncos, advertising, "10 Male Tumblers, 18 and up, tumble at all Bronco Home Games. Paid. Meal. Uniform. Field View of Game."
Broncos spokesman Patrick Smyth said that's not true.
"This individual has not been involved with our stadium's game day entertainment for several years and was never an employee of the organization," Smyth said in a statement.
"Previously, he oversaw the tumblers who performed on game day until we ended that contracted arrangement."
Williams said Thursday he "would love to get his side of the story out," but on the advice of his attorney, he couldn't.
Despite a personal visit and two calls to the attorney, there has been no response.