This is an archived article and the information in the article may be outdated. Please look at the time stamp on the story to see when it was last updated.
BLACK HAWK, Colo. — Casinos in Colorado have been quietly helping prosecute hundreds of everyday gamblers under a little-known law.
Court records show in the past five years, 728 casino customers in Black Hawk and Central City, and 202 more mostly slot machine players in the Cripple Creek area, have been cited or arrested under Colorado Statute 12-47.1-823(1)(c).
Their indiscretions range from innocently playing abandoned slot credits left on machines by other customers, cashing in credit vouchers found on the floor, or finding forgotten or dropped chips — to a series of less innocent crimes such as cheating at roulette or trying to swipe blackjack chips.
By law, casinos own lost, forgotten or abandoned "property" inside their establishments — and they don't mess around with enforcing their rights to retain those credits or money.
Casino security, working with Department of Revenue Gaming Division Enforcement agents, put customers in jail if necessary to collect every penny.
In fact, court records show in Gilpin County since mid-2012, 469 casino customers were arrested and at least were 78 jailed after being accused of misdemeanor casino "fraud."
Dan has a state professional license to protect and his last name is not being used.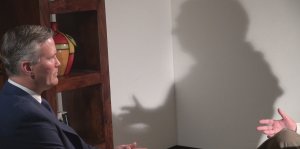 "There was no intent to steal from anybody," Dan said. "I had no idea."
Court records in Gilpin County district court show Dan went to Johnny Z's Casino in Central City earlier this year to hit the slots.
A previous customer had left a $2 credit on the machine next to him so he slid over to play it.
The next time he visited and swiped his players card into Johnny Z's system, casino security and state gaming enforcement officers approached him.
"I go upstairs to the third floor into a dirty little room and someone tells me I stole $2 from the casino," Dan said.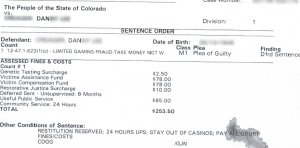 Dan said he told security and gaming agents he was glad to pay the $2 back, unaware it was a crime to play abandoned credits. He said they refused and handed him a citation.
The Gilpin County prosecutor and courts gave Dan a criminal record several months later.
He said he felt forced to plead guilty to misdemeanor fraud in order to be offered a deferred sentence.
The plea would allow him to have his criminal record sealed if he successfully negotiated all of the stipulations.
"They said they had it all on camera. I was guilty, I guess. You're certainly not stealing it from the casino because it wasn't theirs to begin with," Dan said.
"There are certainly times where there are 'laws,' but they are not morally or ethically correct."
Court records show Dan had to pay more than $250 in fines, plus pay for his own FBI criminal background and fingerprinting, pay for probation services, perform at least 24 hours of community service and be banned from all casinos for a year.
All that over playing $2 left on the machine next to him.
"You can't walk down a row of slot machines and not see some amount of money on a few slot machines," Dan said. "Maybe it's only 2 or 3 cents, but where do you draw this line?"
The whole thing feels like a trap to Denver attorney Terry O'Malley.
"What we're doing is we're telling people we're going to surprise you when you get to the casino," O'Malley said. "The rules that applied outside on the street or at your home or work are different."
O'Malley's law firm is representing at least two casino customers accused of casino fraud.
One client reportedly was charged the "take money not won" crime after finding chips left in an outdoor smoking area. Another client had found a credit ticket on the floor.
"You find a dollar on the sidewalk out front, you're OK. You find a $5 bill, you can celebrate and go have a hamburger. But if you find it inside of a casino? You may be heading to jail. For sure, you're going to get charged with a criminal offense."
O'Malley said he suspects the motive has less to do with money and more to do with privately run casinos allowing state gaming enforcement agents to "look like they are doing their jobs."
"That's a suspicion I have as a defense attorney. They're sitting there waiting for someone to come up and use that device and they're going to make an arrest," O'Malley said.
The idea of casinos wanting unknowing customers to be charged with a crime isn't without merit.
Several casinos are listed in court records as complainants: Ameristar, The Lodge, Sasquatch, Wild Card Saloon, The Isle, Lady Luck, Monarch, Golden Gates and Johnny Z's.
There weren't any notable warning signs telling slot machine players about the criminal risks of using abandoned credits.
A comparable warning would be inside a clothing store dressing room where "shoplifters will be prosecuted" notices are prominently displayed.
What dumbfounds Dan is why Johnny Z's and the host of other major casinos are willing to permanently sour relationships with hundreds of gamblers over a few abandoned dollars.
"I will absolutely never set foot in the place," Dan said. "I think it's absolutely unfair because you don't know about it and it's unfair because the punishment does not fit the crime."
Casinos declined to speak on-camera about their part in criminally charging, arresting and jailing customers.
"It is not appropriate to comment on rules and regulations of the state," an Ameristar spokesman said.
That sentiment was mirrored by the Colorado State Department of Revenue, Gaming Division, which released a statement.
The licensed casinos in Colorado are required to notify the Division of Gaming to respond to any incident involving fraudulent acts as defined by § 12-47.1-823, C.R.S.  Specifically, § 12-47.1-823(1)(c), C.R.S.,  requires the Division to investigate cases involving fraudulent acts to provide consumer protection in situations where one patron's money is taken by another patron. Division Investigators, who are certified peace officers in the State, investigate these cases to determine if an illegal act has occurred.  Investigators will interview the parties involved, review surveillance coverage of the incident, and review any other information the casino has regarding the incident.  In most instances, the Division uses these types of cases to educate casino patrons about the law surrounding taking another person's money in a casino.  Approximately 85% percent of these cases are resolved without a summons being issued and the offender is educated on the law.  Typically, the offender returns the victim's money and both parties go their separate ways.  However, there are cases where the investigation leads to a summons being issued.  These cases involve offenders who are often times known to the Division and purposefully go around in the casinos trying to find credits left on slot machines or prey on patrons that leave credits unattended on a slot machine.  In other cases, summonses are issued when the offender refuses to return the victim's money and/or the investigator finds through the investigation that the offender had the intent to defraud victim.
Confirming the idea that gaming agents and casinos prosecute mostly serial cheaters and enjoy educating casino customers more than prosecuting them was difficult.
Basic court charges, statistics and sentencing were reviewed by utilizing a database connected with the casino fraud statute, provided by the State Court Administrator, Court Services Division .
However, the Department of Revenue did its best to thwart the efforts to review agent notes for "Fraud — take money not won" cases.
Those notes often list the casino involved, the money amount in dispute, whether the customer was cooperative and a written summary of what allegedly occurred.
In October, a request was submitted to review citations under that specific statue. A series of case numbers from Gilpin County where the arresting agency was listed as "Division of Gaming — Gilpin" was also submitted as a reference.
Communication director Lynn Granger declined to release any information citing "Records — Confidentiality."  Granger emailed that the citations were "investigative reports."
An appeal of the Colorado Open Records Act denial was submitted, arguing the citations were an issue of public interest and cited a portion of the statue that allowed "the commission may at its sole discretion disclose so much of said reports or work papers as it deems necessary and prudent."
Although the Department of Revenue eventually agreed to release partially redacted gaming fraud citations, it only sent five partial reports of the 161 requested as a sampling from 2016 over a two-week period.
As for Gilpin County District Court, it said its records would have to be reviewed at a cost of $2,254 plus $241.50 in copy fees.
That review cost worked out to nearly a half-hour per two-page citation.
An appeal regarding excessive charges did not change the situation. After agreeing to pay $25 per hour for eight hours work to the Gilpin Court administrator, it retrieved and provided a sampling of 79 gaming citations from 2016.
About half the citations contained no agent notes, only blank areas for narrative, dollar amount and if the customer charged was a repeat offender.
The majority of the remaining cases involved slot machine violations of some sort: Playing abandoned credits, intentionally cashing out another customer's credits without their permission and attempting to cash in vouchers for money that was not theirs.
A dozen or so cases involved what appeared to be intentional criminal behavior: Cheating at roulette, wandering around slot machine to slot machine looking for credits, failing to honor a raise in poker, and failing to provide valid identification for IRS purposes after winning a $1,000 jackpot.