This is an archived article and the information in the article may be outdated. Please look at the time stamp on the story to see when it was last updated.
DENVER –When avid golfer Larry Turner could not find his golf clubs after a flight from Florida to DIA, his first thought was to blame his airline.
"I just thought the airlines lost them," Turner said.
However, after a couple of months, Turner discovered the clubs were in fact stolen.
"I was mad. I was really upset," he said.
Todd Mohr, the lead singer for Colorado's own Big Head Todd and the Monsters, is a victim of theft too.  Mohr had checked his yellow custom made K-Line guitar when traveling from a show back to his Denver home.
"Right away we knew it was stolen." Mohr said.  The rock star thought his coveted instrument was gone for good until the maker of the guitar, Chris Kroenlein, spotted the instrument on sale on Ebay.
"You have to have a little bit of nerve to do something like that because you'd think there are cameras everywhere." Mohr said.
Convicted luggage thief, Wagner Huber, made theft from the luggage carousels look easy.  DIA surveillance video showed Huber, wearing dark clothes and a baseball cap, walk to the United Airlines baggage carousel and stole a large duffel bag in less than six seconds.
He was eventually caught and sentenced to 9 years in prison.
There are a lot of cameras at DIA's baggage area, but is anybody watching?  FOX31's Investigative team put DIA's three main carriers to the test.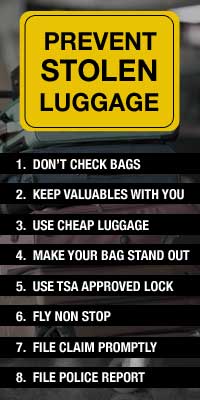 At Southwest, we dropped a laptop bag with no airline name or tag on the carrousel.  A Southwest employee picked up the bag and placed it in a secure area, but when we went to claim it, the employee did not ask for identification.
At the Frontier carousel, an employee quickly removed the bag from the carousel and turned it over with no questions asked.
At DIA's biggest carrier, United Airlines, our computer bag circled on the carousel for two hours.
When asked how long bags usually stay on a carousel before someone picks it up, an United employee said the bags "can stay out here for all day.  You could look like you know what you're doing and walk away with anything."
According to Denver police, last year 384 lost or stolen property reports were filed at DIA.  So far this year, passengers have filed 274 reports.
The airlines do track luggage thefts, but when we requested the numbers on how much baggage was stolen from DIA, the airlines either ignored our request or told us the numbers are not public record.
LINK: Frontier Contract of Carriage
Aviation expert Mike Boyd  screened our video.  Boyd was surprised we were able to get the bag from a secure area with no questions asked.
"They might want to ask for some ID." Boyd said.
The aviation expert believes we would all pay in higher ticket prices for more security.
"It would be 10's of thousands of dollars to put somebody there to check it and it still would make it safe.  If somebody wants to steal it, they're going to find a way of stealing it." Boyd said.
If it happens, file a claim promptly and you can also file a police report.