This is an archived article and the information in the article may be outdated. Please look at the time stamp on the story to see when it was last updated.
DENVER — Every week, FOX31 looks at health inspections at restaurants in metro Denver and along the Front Range.
Little Saigon Super Market
The Denver market failed with nine critical violations on August 30, 2018.  The issues included:
An excessive amount of trash and old equipment
Floor needs repair
Employee drinks sitting on cutting boards and counter tops
Clams, oysters and other shellfish stored together

Critical Violation Little Saigon Market
The market did not return our calls so FOX31's Erika Gonzalez stopped by. Gonzalez asked, "What do you want to tell your customers about what you've done to correct the problems the inspector found?"
The employee said he didn't want to be on TV.
Little Saigon at 375 South Federal Boulevard passed a follow up inspection on September 13, 2018.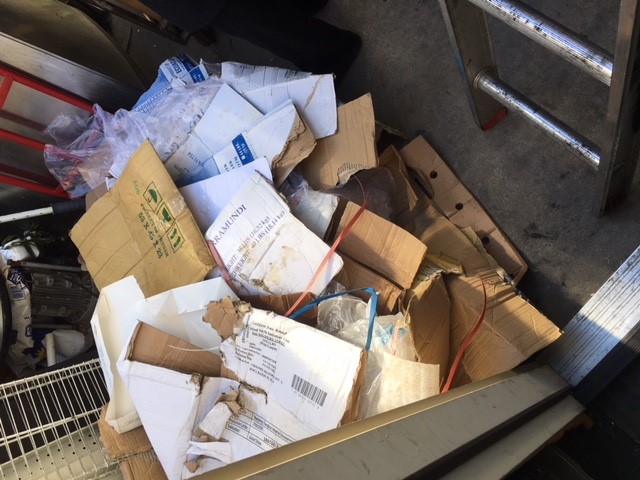 Good Times Drive Thru Burgers/120th in Thornton
The Thornton location scored 11 critical violations in September. The mistakes includeD:
Sticky fly device hanging above straws
No sanitizing dishes or food prep tables
Employee cutting lettuce without washing hands
Cheese not cold
Burritos not hot
The restaurant's VP of Operations sent the following email:
"We take food safety very seriously. The issues identified by the inspector were correct before the inspection was complete. Three days later we scored 100% on the follow up inspection."
Good Times is on 120th Avenue in Thornton.
Brooklyn's Finest Pizza
For the second year in a row, Brooklyn's Finest Pizza in Denver scored zero violations. Brooklyn's is located at 5007 Lowell Boulevard.
How restaurants appear on our Report Card
Restaurant Report Card features health inspections in the city and county of Denver, Jefferson County, Weld County, Broomfield and restaurants under the jurisdiction of the Tri-County Health Department. The Tri-County Health Department includes Adams, Arapahoe and Douglas counties.
An inspection is a "snapshot" of what is happening during the day and time of the inspection. On any given day, a restaurant could have more or fewer violations than noted in an inspection. Also, at the time of an inspection, violations are recorded and can be corrected prior to the inspector leaving the restaurant. If violations are not corrected, a follow-up inspection is scheduled.
The criteria FOX31 Denver uses to give a restaurant a failing grade includes the evaluation of two unannounced inspections by county health inspectors. A failing restaurant must have five or four critical violations on their most recent regular inspection and five or four critical violations on the previous regular inspection. The restaurant may also fail for nine or ten or more violations in one inspection. Health inspectors may conduct critical or follow-up inspections, due to the number of critical violations found during a regular inspection. Those inspections may also be considered for our reports. We recognize restaurants with two regular inspections in a row, with no critical violations, by awarding them an A.
Check your favorite restaurants