This is an archived article and the information in the article may be outdated. Please look at the time stamp on the story to see when it was last updated.
DEER TRAIL, Colo. — The FOX31 Problem Solvers first exposed unregulated match races: Doping, gambling and abuse of horses going unchecked by regulators and politicians.
Now, it's been uncovered that Arapahoe County sheriff's deputies not only knew about the horse races, they profited from them.
Public records show the organizers of an unsanctioned series of "Mexican Horse Race" events held in Deer Trail hired at least 30 deputies on 14 occasions to provide extra patrols.
Residents who live near the rodeo grounds said they could easily see drug use, animal abuse and rampant cash betting on races.
They wonder why dozens of deputies didn't or couldn't stop the illegal activities so apparent to them.
The well-attended, unlicensed series of match races thrived under the political cover of Deer Trail Mayor Kent Vashus.
Vashus admitted he allowed Parjeras Racing USA to run more than a dozen unsanctioned horse races without telling state racing regulators.
He said he was not acting as Deer Trail mayor but instead as the registered agent of the Deer Trail Jockey Club. That nonprofit owns the rodeo grounds.
Vashus, whom records show is a convicted felon with a violent criminal history, also owns the only full-service liquor store in town, just a few blocks from the rodeo grounds.
On top of armed private security who worked inside and out of the rodeo grounds on race days, Vashus said he made sure uniformed Arapahoe deputies, in county-marked vehicles, had a presence outside the horse race arena.
Using the Colorado Open Records Act, "extra-duty" pay approvals on file at the Arapahoe County Sheriff's Office were obtained that confirmed Vashus' claim.
In 2015 and 2016, the pay sheets show 30 deputies earned more than $23,000 working "traffic and town patrol" in Deer Trail.
The extra duty approval dates match the days where unsanctioned horse races were held on at least 14 occasions.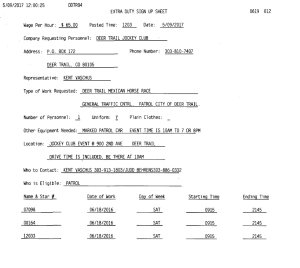 When asked if deputies were "looking the other way" during those events to avoid spotting criminal activity, sheriff's Cmdr. Glenn Thompson said, "Absolutely not."
Thompson said there are complexities of trying to balance two objectives: Keeping the community outside the rodeo grounds safe during large crowd situations and being in a position to respond to a serious, felony level crime.
"The deputies that work the area, what they can see outside the venue is clearly a lot different from what somebody from inside with a camera can see," Thompson said.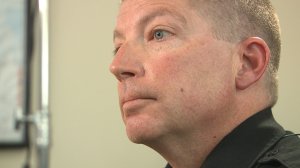 He said even though deputies' extra-duty pay comes from horse race organizers, that does not give them the authority to enter the private property.
"To go onto private property, which the Jockey Club is, we would need either a search warrant and, in lieu of that one of those exceptions to the search warrant, exigent circumstances or a major crime being committed," Thompson said.
He said even after seeing the investigative reports on the questionable activities inside, Arapahoe County would consider providing deputies for traffic and town patrol at unsanctioned horse races in the future
"All extra-duty requests would be evaluated to see what the request is," Thompson said. "And what the specific location of that request is and they'd be evaluated like any other request."
Not in Yuma County
By contrast, Yuma County Sheriff Chad Day said deputies would not be allowed to provide any sort of security or oversight at an unsanctioned horse race unless they were on-duty under his command.
In July, a huge match race was advertised by Parjeras Racing, the same group that organized the Deer Trail events.
Video recordings show thousands of spectators in danger, cheering from the track as two horses ran down the straightaway at the Yuma County fairgrounds.
Day, who was not notified of the event, told himself that was going to be the last unpermitted horse race in the county.
"I think it would be fair to say that it got out of hand," Day said.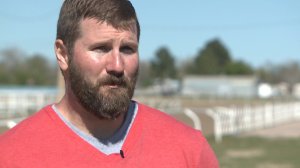 Day said he understood most of the people who wanted to watch match races were just there for fun, but often intermingled into the crowd was a criminal element.
"Trade of illegal narcotics, some weapons, some human trafficking, some underage prostitution. I mean we've heard about all of these things," Day said.
At the next pop-up horse race held on the fairgrounds, Day showed up with 50 deputies, a dozen K-9 units, federal customs and immigration agents, the FBI and state-certified veterinarians.
"It wasn't uncommon to see a car come into the main entrance where they were collecting the gate and see the line of patrol cars, especially the K-9 vehicles, K-9 officers that were here. They would see those cars and literally turn around and drive back out," Day said.
"There were also some people very obviously uncomfortable with that presence and they just left."
But Day took another, more permanent step. He got Yuma County commissioners to pass a new fairgrounds-use policy.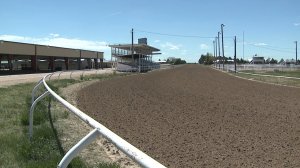 It says, in part, "(T)he County has determined that given the unique issues that arise and the specific experience in the county with for profit horse and other match races the following requirements shall apply:
$10,000 minimum law enforcement and animal welfare deposit
A veterinarian is required on site
All expenses for law enforcement will be billed to the facility user
Since these rules have been in place, Day said nobody has successfully met the obligations of the new fairground contract.
As it stands, Colorado laws don't give state racing enforcement agents the right to stop the match races from happening.
The investigation found flaws in the way local governments and law enforcement attempt to regulate the events.
Gov. John Hickenlooper has said he's going to look into the matter.