This is an archived article and the information in the article may be outdated. Please look at the time stamp on the story to see when it was last updated.
DENVER — Why are so many police officers being murdered while wrapped in the protection of body armor?
It's a question that's been on the minds of Colorado this year after the gunshot deaths of three deputies, in three different departments, over a five-week period.
December 31, 2017: Douglas County Deputy, Zackari Parrish III
January 24, 2018: Adams County Deputy, Heath McDonald Gumm
February 5, 2018: El Paso County Deputy Sheriff, Micah Lee Flick
To find answers, the FOX31 Investigative Team started by reading the FBI's "Law Enforcement Officers Killed & Assaulted" or LEOKA files connected with every peace officer death in America over ten years – more than 400 cases.
Patterns emerged with two key findings.
For starters, data shows bullets are finding their way through gaps in soft body armor vests, via armholes and Velcro-abutted side-panels.
Secondly, police personnel are either not wearing, or not provided, ballistics gear which can prevent penetration by rifle round – statistically one of the deadliest threats to police over the past five years.
Between 2007 and 2016, FBI data shows at least 137 peace officers were killed with a gun while wearing body armor.
The FOX31 Problem Solvers eliminated cases where the fatal shot was to the head, neck and legs.
That left 63 officers wearing body armor where the fatal shot was in the torso, the very area soft-body vests and rifle-resistant insert plates are made to defend.
Map & Data: Officers killed by gunshot to the torso while wearing body armor
More: See all the "Bulletproof" stories from the FOX31 Problem Solvers
Twenty-four of those deaths were related to a vest being "penetrated" — mostly by rifle rounds which exceeded the vest's specifications or rating.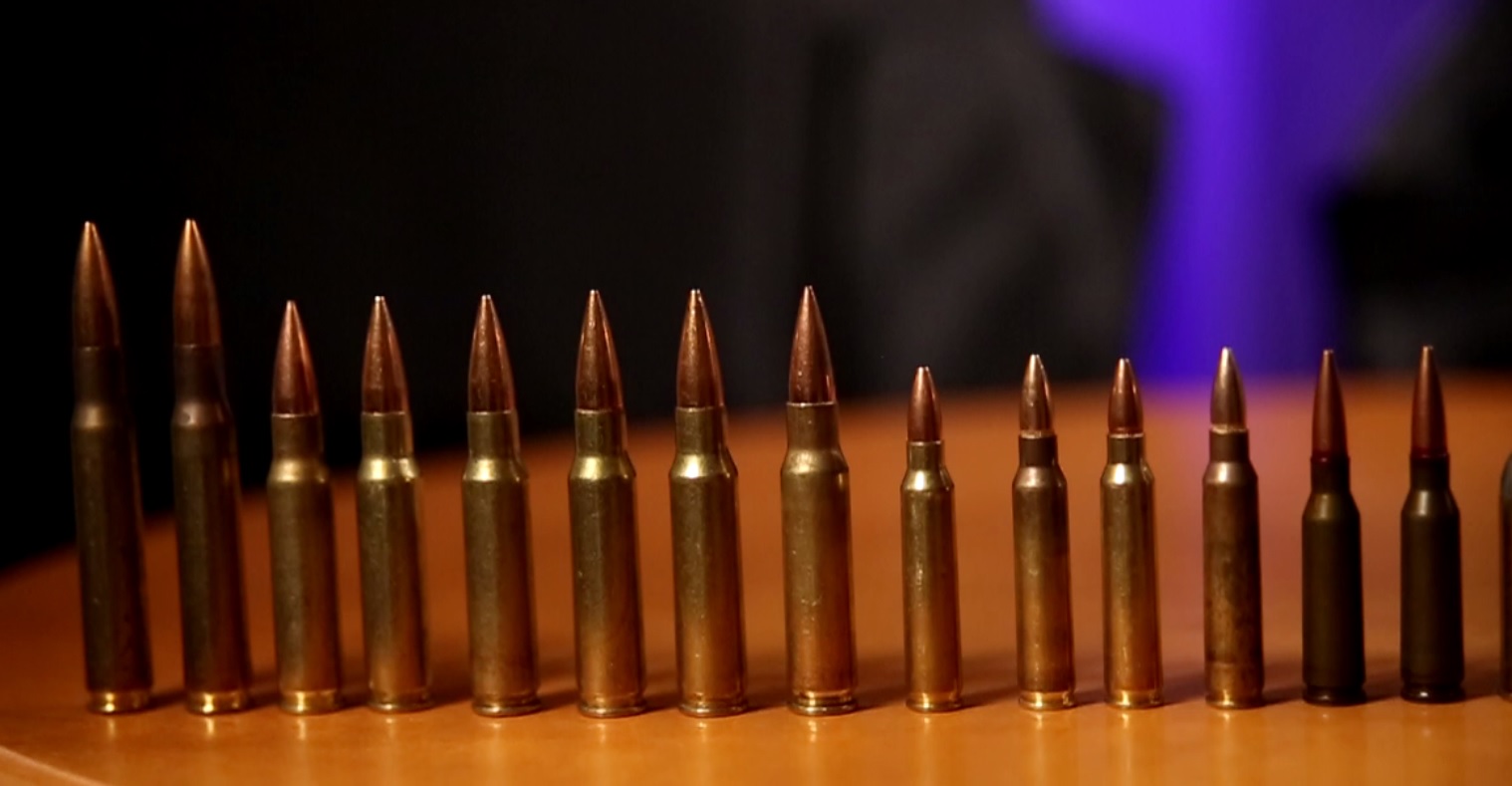 Thirty-eight additional police fatalities were blamed on what some body-armor manufacturers call the "Achilles heel" of the industry – bullets missing the vest's protective materials, usually through the armpit of an officer holding their own service weapon toward whoever is shooting back.
Nate Carrigan is one of those victims.
The Park County, Colorado sheriff's corporal and two other deputies were attempting to serve an eviction notice to a homeowner, Martin Wirth, in February of 2016.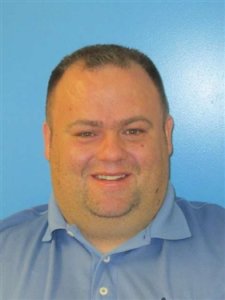 Wirth retreated into his house, grabbed a Master Piece Arms .45 caliber rifle, and opened fire.
Carrigan was shot one time through the armhole of his vest. The bullet, according to the autopsy, pierced his heart.
Carrigan's family tells FOX31 his Level 2 soft body armor vest was ten-years-old, out of warranty, and so ill-fitting, they believe if he had been given the right protective gear from the Park County Sheriff's Office, he'd be alive today.
They are also upset Carrigan went to the door without a rifle-resistant shield, helmet, and/or hard-body plates over the top of his vest.
His father, John Carrigan, declined an on-camera interview, but told FOX31 on the phone, "A couple months before shooting, Nate was given a new vest, but he gave the vest away to a detective (who didn't have one) and he was later told (by Park County) to go buy his own."
Carrigan added, "He had no choice but to use his old one."
Nate's mother, Melissa Carrigan, told FOX31 the family was so concerned about the condition of Nate's soft body armor, "we were looking into buying a new vest for him for Christmas, but they were all over $1,000."
Wirth had previously threatened to kill "any cop" who showed up at his door.
Carrigan's family has filed a lawsuit against Park County for its alleged negligence.
On New Year's Eve 2017, Douglas County Deputy Jeff Pelle was also shot through the armhole of his vest but survived.
Pelle was part of a team of deputies attempting to help a mentally ill man holed up inside his apartment.
Matthew Riehl opened fire with a semi-automatic rifle through the bedroom wall.
The volley of shots killed Douglas County Deputy Zach Parrish, who was standing right next to Pelle.
Dramatic body camera video shows how Pelle attempted to drag Parrish's injured body to safety and while doing so, was hit with a round himself.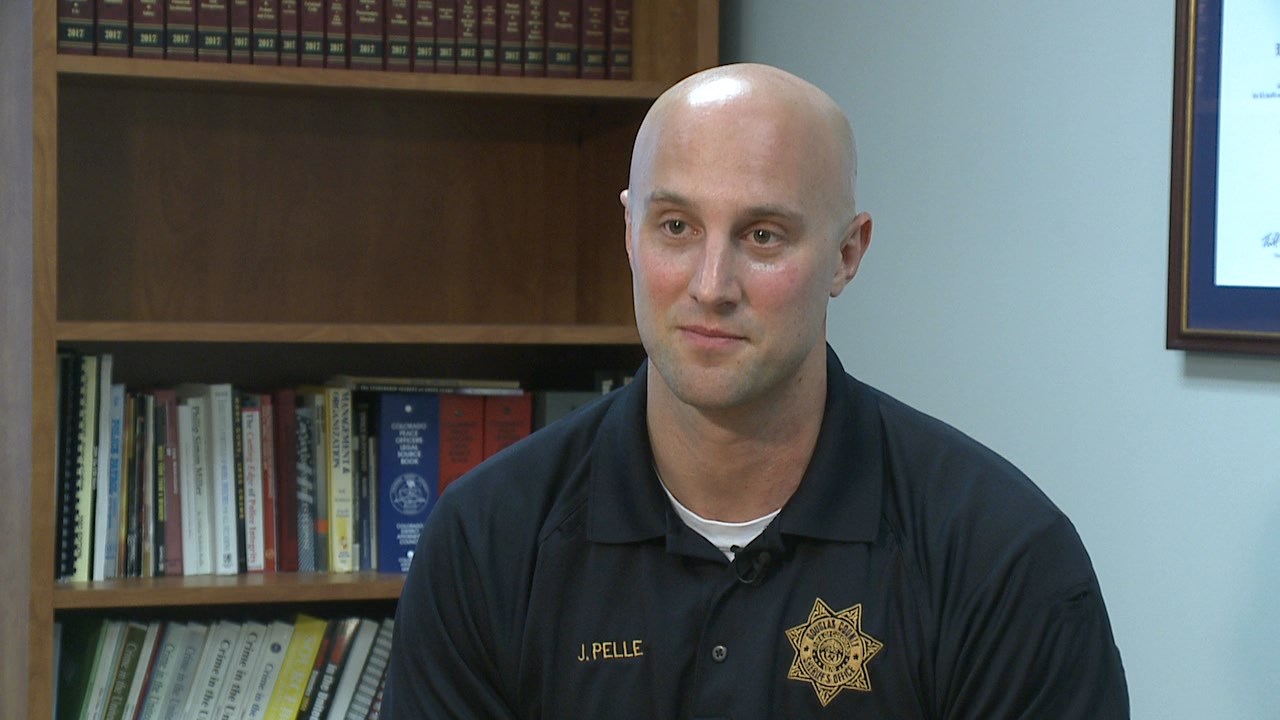 "I still have scars. I think about that every morning when I get ready, when I go to bed. I think about that night a lot," Pelle told FOX31.
Still recovering on "light duty", Pelle declined to comment on the effectiveness of the protective gear provided by Douglas County to him and his colleagues that New Year's Eve night. However, for this report, his boss, Sheriff Tony Spurlock, did.
"On that night we didn't have, we didn't have the ability to defend ourselves with the type of ammunition and weapons that this individual had," Spurlock told FOX31 Problem Solvers.
Spurlock admitted the deputies did not have the right protective gear for the threat they faced.
He told us one of his deputies took a ballistic shield with her on the call, but that shield was not "rated" to withstand the force of rifle-rounds. In fact, pictures, reviewed by FOX31 show a rifle bullet went right through it.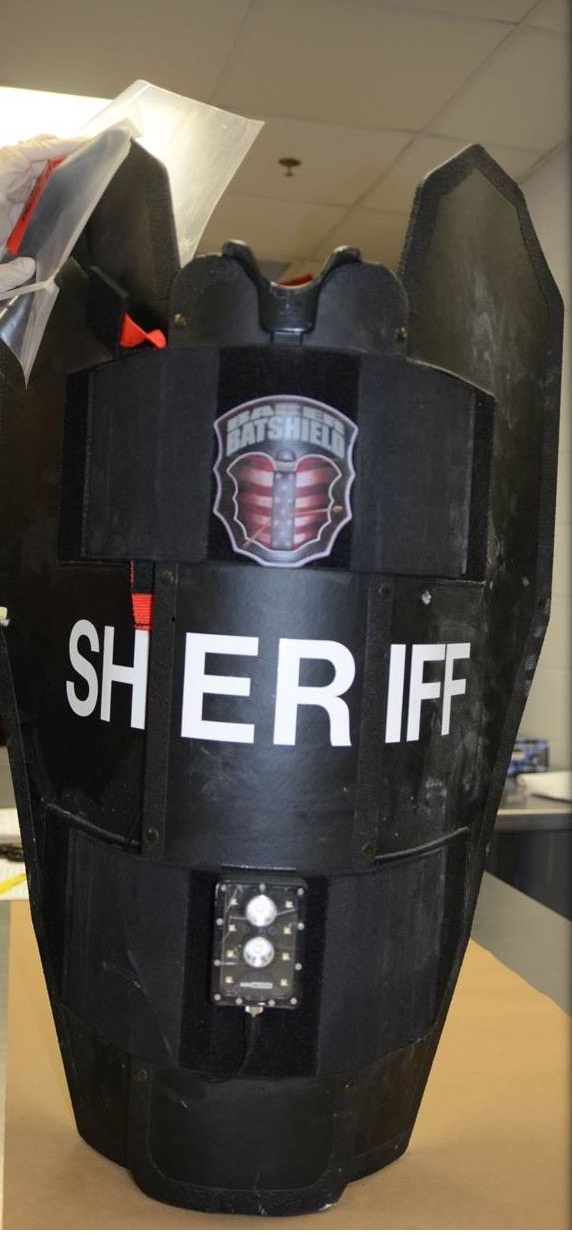 Spurlock also said all his deputies wore soft body armor, rated to defend against most bullets fired from pistols or handguns, but none of the vests met the federal standard set to stop rifle rounds.
Deputy Zack Parrish was murdered wearing that "pistol-resistant" ballistics vest. According to the autopsy report, Parrish was shot "through-and-through" four times and has his vest "penetrated" two more time at close range with high-velocity rifle rounds.
"There isn't a day that goes by that we didn't think about ' boy I wish we had this knowledge today'," said Spurlock.
Injured Deputy Jeff Pelle's father is Boulder County Sheriff, Joe Pelle.
He confirmed his son's ballistics vest was not penetrated, rather a bullet slipped through the armhole.
"He (Jeff) had bent over in an attempt to grab Zack Parrish and so the bullet entered here, behind the vest panel and crossways through the panel and went crossways through his body. It went through his lung, broke his ribs, went through his diaphragm and his liver. It wouldn't have mattered what vest he had on," Pelle told FOX31.
"There are some issues around vest design," Pelle added. "The vests that we wear, the soft body armor is rated for hand-guns. And for decades, most of my career, almost every assault on a peace officer was committed with a handgun. And while we have seen the increase in rifle-related assaults, we have been slow in catching up because of the cost and difficulty with comfort."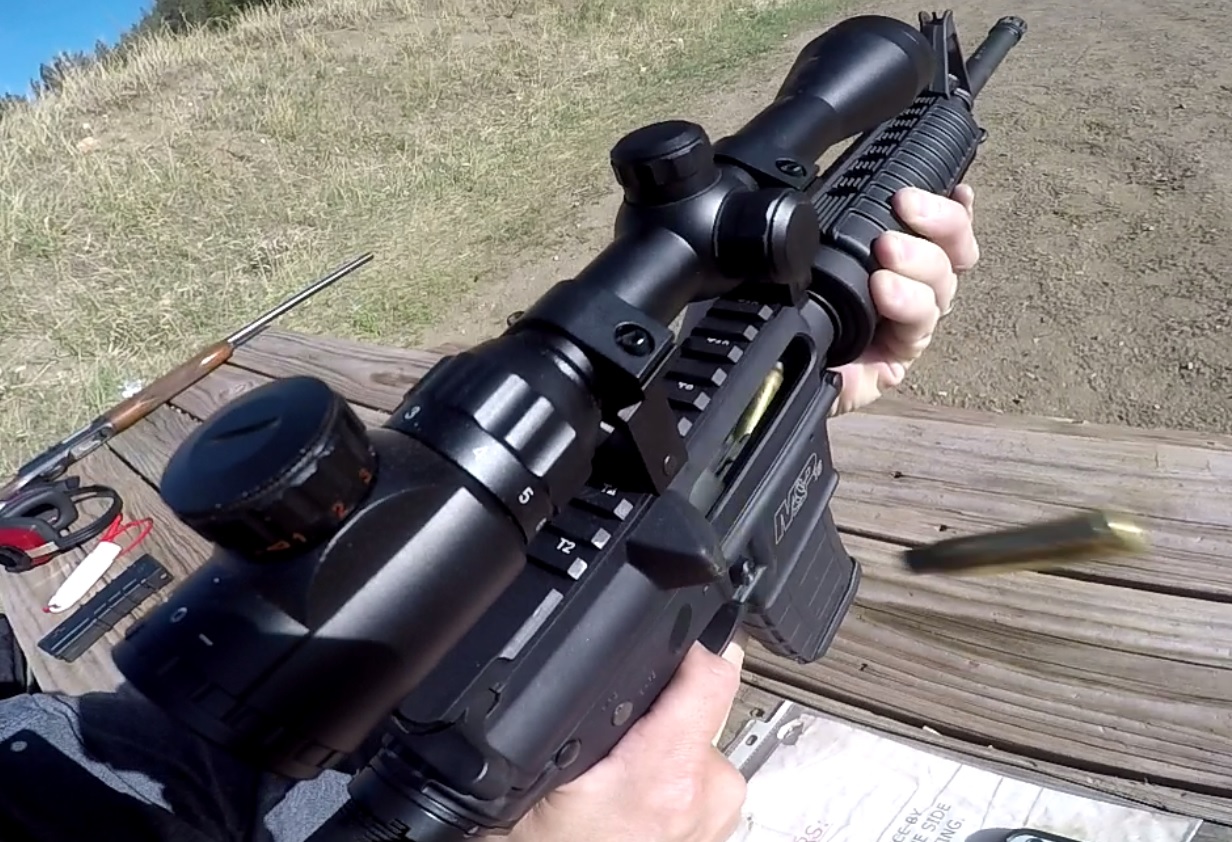 Sheriff Pelle tells FOX31 over his 38-year career, he's watched ballistics vests get lighter and stronger, but the deputies, in his opinion, also need to be provided additional, what is labeled "Level 3 or 4" hard, ceramic plates, inserted into or worn over the typical soft-body armor, an expensive addition.
"While we have seen the increase in rifle-related assaults, we have been slow in catching up because of the cost and difficulty with comfort," said Pelle.
Sheriff Pelle said that after his son's near-death encounter, he needs to find a way to buy all his deputies rifle-resistant plates, helmets, and ballistics shields, However, that is simply not in his budget.
County Commissioners gave his Office a one percent overall increase next year.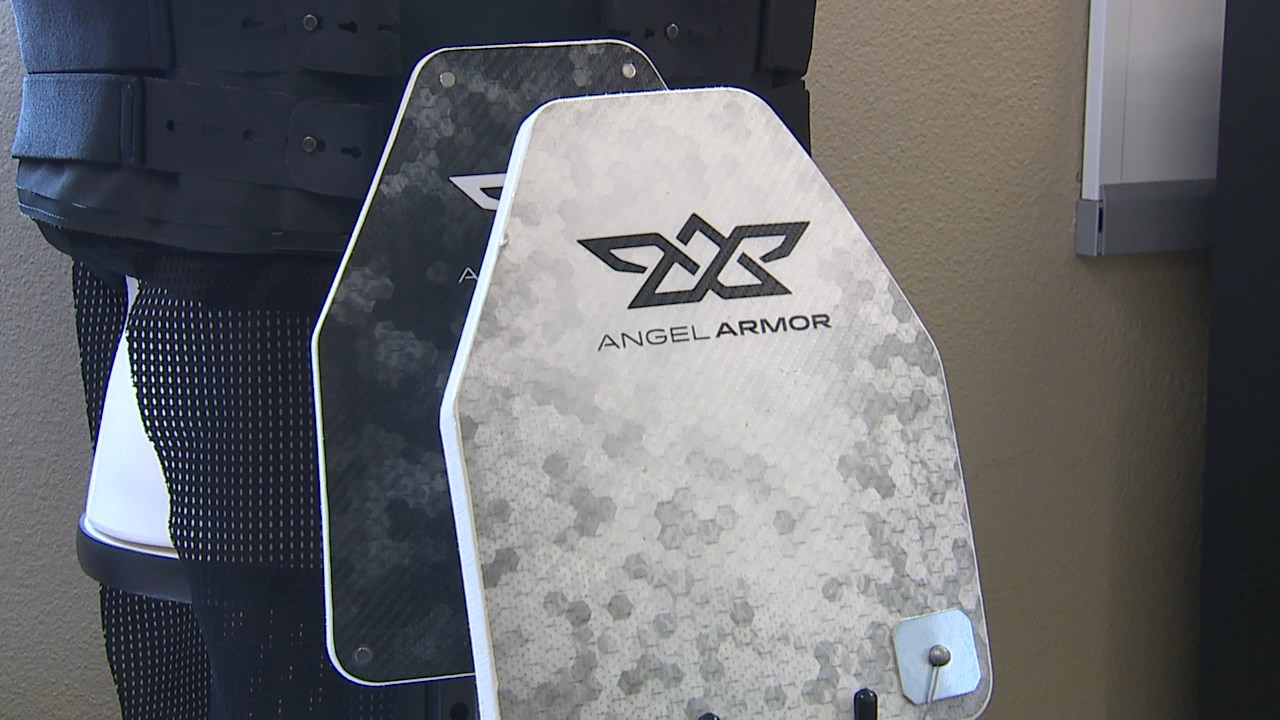 He has been talking with non-profit charities, like Shield616, to speed up donations and funding for obtaining such gear.
Likewise, Sheriff Spurlock is both accepting charitable body armor donations and meeting with ballistic gear-makers to buy more protection.
He is also crafting a ballistics protection policy for his force; something he did not have in place prior to the New Year's Eve ambush.
Spurlock told FOX31 during an on-camera interview, "Zack's tragic loss– we have committed to ourselves that we are going to continue to take something, as tragic as it was, find ways to improve and save lives in the future."
Coming up Tuesday night, the FOX31 investigative team reviews how body armor gets tested to meet federal standards for strength and effectiveness.