This is an archived article and the information in the article may be outdated. Please look at the time stamp on the story to see when it was last updated.
LONGMONT, Colo. – NTSB investigators say it could be months before they determine the cause of a mid-air collision Friday that killed two people and injured a third.
Bev Cameron, the survivor of a deadly mid-air collision over Longmont, returned to Vance Brand Airport with family members Saturday to view wreckage from the accident that killed two people.
The victims were identified Saturday morning as flight instructor Ryan Brungardt, 30, of Strasburg, and pilot Edward "Lee" Omohundro, 64, of Evergreen.
Brungardt was instructing Omohundro when their aircraft collided with another Cessna over Longmont and spiraled into the ground.
The pair had taken off from Rocky Mountain Metropolitan Airport, where Brungardt worked with McAir Aviation. His coworkers spoke with FOX31 Denver Saturday.
"He did a great job. His customers loved him," said Justin Wigal, who was Brungardt's supervisor. "I can't say enough how passionate he was about what he did. He ate, drank, and slept airplanes."
"He's a really, really great guy. We all loved him a lot and he's going to be missed terribly," said flight instructor Luke Collison.
As flight instructors, they know the risks associated with flying.
"It's something you go into the air knowing it's a risk," said Chris Stolz, also a flight instructor. "It's a danger and we all accept it. We all love it."
A recovery crew removed the wreckage of the plane Brungardt and Omohundro were flying, while investigators with the National Transportation Safety Board continue their work trying to determine the series of events that led to the crash.
The collision occurred at about 11:45 a.m. Friday.
The planes crashed at two separate locations roughly five miles apart: one at Weld County Road 1 and Highway 119, and the other on Airport Rd., just north of Vance Brand Airport.
One witness described hearing an engine "rev," and then saw the planes apparently trying to avoid each other in mid-air.
Mountain View Fire Protection District spokesperson Steve Pischke said the wreckage at Highway 119, where the bodies of the pilot and an instructor were recovered, was so severe that it was "virtually impossible" to initially determine the type of aircraft or how many people were aboard.
The aircraft was later determined to be a Cessna 172.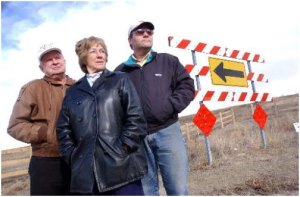 The pilot of the other aircraft, Beverly Cameron from Erie, attempted to land her 1955 Cessna 180 at the airport.
"(Her plane) appeared to be experiencing trouble maintaining its altitude," said Longmont Police Commander Tim Lewis. "As it tried to negotiate towards the airport, it lost control and struck some power lines…and crashed into our public works facility."
"She made so many distress calls and she was pretty sure she wasn't going to make the runway, so we were all waiting and watching and standing by," said Lori Godfrey, an employee at Vance Brand Airport.
After she crashed, witnesses and city employees rushed to pull Cameron from the wreckage as fuel was rapidly leaking, Lewis said.
"I was nervous going up to the plane because I honestly didn't think anyone would survive," said Julio Peiando, one of the rescuers. "I got the door open and I managed to rip (it) off and pull her out that way."
Cameron was transported to a local hospital for treatment of unspecified injuries, and then released.
Cameron's neighbors say she became dizzy Friday night and was readmitted to Longmont United Hospital in good condition.
Investigators say it could take months to issue a final report on the collision.
Listen to emergency radio communications: First plane crash
Listen to emergency radio communications: Second plane crash