This is an archived article and the information in the article may be outdated. Please look at the time stamp on the story to see when it was last updated.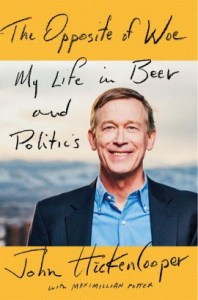 DENVER -- After completing his media tour in New York and Washington, Gov. John Hickenlooper is back in Denver.
"The Opposite of Woe: My Life in Beer and Politics" is Hickenlooper's book and is available in stores.
"I think a lot of us have done stupid stuff," Hickenlooper said Thursday during a media availability at the Governor's Mansion on Thursday when asked why he revealed so much in the book.
Among the topics discussed include how he lost his virginity and how his marriage fell apart.
"She said yes," Hickenlooper said when asked why he took his mother to see the X-rated film "Deep Throat" in the 1970s.
The governor said he felt his mother had been lonely recently.
"I'm surprised the press corps hasn't demanded to see that selfie," Hickenlooper said in response to taking a nude selfie in the shower during his youth -- a selfie that won an award at a local contest.
Hickenlooper dismissed the fact he released the book to increase attention for being a possible running mate for Democratic presidential candidate Hillary Clinton.
He also said he did not release his "dirt" so it wouldn't be a scandal later.
"If this were an audition, maybe I should have left some things out," Hickenlooper said.
The governor doesn't seem to be worried about book sales, sporting Donald Trump and Bernie Sanders socks he purchased at Pollux Clothing Store in Grand Junction.
The governor will be donating proceeds of the book to charity.