This is an archived article and the information in the article may be outdated. Please look at the time stamp on the story to see when it was last updated.
DENVER — Adam Lanza, who went on a shooting rampage last December at Sandy Hook School in Newtown, Conn., carried out the killings using 30-round magazines made by Colorado's Magpul Industries, according to a 48-page report released Monday.
Lanza used the company's best-known "PMAG" (polymer magazine), a 30-round magazine, to kill 26 people, including 20 first graders, the report said.
Colorado lawmakers this year passed five bills aimed at strengthening the state's gun laws, including a measure that bans the PMAG and any magazine of more than 15 rounds.  Lawmakers cited the Sandy Hook shooting as a partial motivation for the laws.
Magpul, which is based in Erie, fought hard to stop the proposal, even threatening to leave the state should it pass (the measure became law in May and, as of November, Magpul has not yet moved although the company said it's still planning it).
The report describes the ballistic evidence as including "a total of twenty-four rounds of 5.56 mm ammunition found, of which ten rounds were in one PMAG 30 magazine, thirteen rounds were in another such magazine and one live round was on the floor."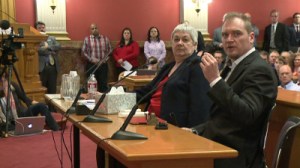 "There was a third empty PMAG 30 magazine seized. There were a total of eighty expended 5.56 mm casings seized from classroom 8," the report said.
The report also states that Lanza's Bushmaster rifle "was found with the safety in the 'fire' position. There was one live 5.56 mm round in the chamber and one PMAG 30 magazine in the magazine well. The magazine contained fourteen live 5.56 mm rounds of ammunition.
"The rifle did not appear to have malfunctioned when observed by the WDMC van unit, but a CSP-ESU report described the weapon as appearing to have jammed. When tested later, the rifle functioned properly," the report said.
"Two empty PMAG 30 magazines that were duct-taped together in a tactical configuration and one live 5.56 mm round were found near the rifle," the report said.
FOX31 Denver has been unable to reach Magpul executives for comment on Monday's report.
On Twitter, former Senate President John Morse, one of two Democrats ousted from office in recall elections this September as part of a backlash to the gun control legislation, took aim at Magpul Monday afternoon.
Saw Newtown report. Can someone point me to Magpul's apology to the victim's families? #coleg #copolitics #gunsafety

— John Morse (@SenJohnMorse) November 25, 2013
His tweet quickly drew a response from Americans For Prosperity, a conservative group that supported the recalls:
@SenJohnMorse Thanks, John, for reminding us of why recalling you was the right thing for your constituents to do. #copolitics #coleg

— AFPColorado (@AFPColorado) November 25, 2013