This is an archived article and the information in the article may be outdated. Please look at the time stamp on the story to see when it was last updated.
DENVER — Gov. John Hickenlooper announced Friday that he issued a pardon for Rene Lima-Marin, who was released from prison and then taken into custody by U.S. Immigration and Customs Enforcement officials earlier this week.
Lima-Marin was convicted of armed robbery and sentenced to 98 years in prison. But was released decades early because of a clerical error. During his release, he started a family and turned his life around.
Lima-Marin was sent back to prison after the mistake was realized in 2014.
Earlier this week, a judge released him from prison and that's when ICE moved in on the Cuban-born father.
A pardon will take away Lima-Marin's felony conviction, which lawmakers say is the main legal basis for his current ICE detainer.
The pardon will likely force ICE agents to allow Lima-Marin to go free.
"Law-abiding, very successful, constructive member of society," Hickenlooper said. "It's a remarkable story."
"We thank the governor for taking this extraordinary step of granting Rene a full and unconditional pardon. I just got off the phone with Rene and he is stunned," said Lima-Marin's lawyer, Hans Meyer.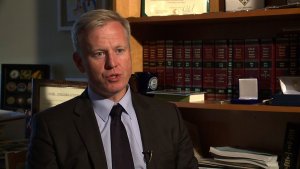 Eighteenth Judicial District Attorney George Brauchler, who is running to replace Hickenlooper, was highly critical of the governor's decision to pardon Lima-Marin.
"Colorado law requires the governor to provide 14 days for relevant parties — including the district attorney and sentencing judge — to respond to an application for a pardon," Brauchler said in a statement.
"I have never seen an application for pardon in this case. We were not given the statutory time to respond, and we were not able to seek input from the victims or give them notice that a pardon was sought or being considered.
"The victims likely will find out like we did — on social media or news outlets.
"The pardon application form that the governor's office purportedly requires applicants to submit clearly states that a pardon is available only after seven years have elapsed from the end of the applicant's sentence. This applicant wasn't even out of custody seven days.
"It does not appear the governor followed Colorado law. In fact, it appears this pardon is in violation of Colorado law and may be an invalid pardon."
The Governor's Office of Legal Counsel provided a response Saturday to issues raised by Brauchler.
"The Governor's Office solicited input from the District Attorney's Office and received input within the fourteen days required by statute," according to the statement. "In fact, the Governor's Office of Legal Counsel received a lengthy response from Mr. Brauchler's Chief Deputy District Attorney on Mr. Brauchler's letterhead, dated May 15, 2017.
"It is common to receive responses from attorneys in the office other than the elected District Attorney. The Chief Deputy District Attorney's response included, among other things, input from the victims, which the Governor carefully considered.
"In addition, the Governor's Office of Legal Counsel reached out to the prosecuting attorney, who is now a magistrate.  He indicated through a representative that he did not wish to weigh in on the clemency application.
"The Governor has broad discretion under the Colorado Constitution to grant pardons and may waive the requirement that an applicant wait for certain periods of time before applying for a pardon."
Brauchler's office later clarified its statement on Saturday night.
"No application for a pardon was ever sent to our office as required by law. The Governor's Office made no reasonable efforts to contact the original sentencing judge for his input, as is required by law," according to the statement.
"The victims were never consulted about their positions on a pardon or whether the guy who victimized them at gunpoint should be permitted again to purchase and possess firearms, as is the right thing to do. We would have done that, had we been told Lima-Marin was seeking a pardon.
"I do not believe that Lima-Marin deserves to skip over the clemency and pardon procedures dozens of others have endured. I do not believe that Lima-Marin should jump to the front of a long line of convicted felons who have done all that is asked of them by the law and the governor's procedures.
"My opinion on these matters has no influence with the governor, in part, because he never asked for my input as the law required him to. The governor may exercise his discretion to pardon whomever he wants for whatever reasons he deems best, but only as the law permits. The law has requirements. The governor failed to meet those requirements. There is a right way to do this. This was not it."