This is an archived article and the information in the article may be outdated. Please look at the time stamp on the story to see when it was last updated.
DENVER — Republican Cory Gardner beat Democratic Sen. Mark Udall on Tuesday night. He had a lead of five percentage points Wednesday.
LINK: See election results here
Udall's defeat helped shift control of the U.S. Senate to Republicans. It gives the Colorado GOP its first big statewide win in 12 years.
"Tonight, we shook up the Senate," Gardner said in a victory speech to a jubilant, packed room. "You shook up the Senate."
With his first words on the podium as senator-elect, Gardner name-checked Yuma, Colo., before launching into a simile-heavy speech that touched on the election's nationwide Republican wave.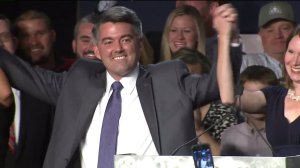 "We have signed up to be the tip of the spear, the vanguard of the movement that is sweeping our nation, to pick the shackle of gridlock and fundamentally change the dysfunction of Washington, D.C.," he said.
Udall, who was seeking a second six-year term, has invested close to $15 million in an unprecedented get-out-the-vote effort to turn out Democratic voters — he spent the final days of the election stumping on college campuses and in Hispanic communities — in an election cycle marked by voter disapproval of President Barack Obama.
Because Democrats tend to vote at the last minute in Colorado and clerks in Democratic counties tend to process ballots at a slower pace, Udall's campaign was holding onto hope that the final batch of votes would be large enough and Democratic enough to enable them to hold on by the skin of their teeth. That was not the case, though.
Colorado's 2014 midterm election was also the first real test-run of the state's new election law that sent mail ballots to all registered voters.
While most observers anticipated that that move would boost turnout among Democratic drop-off voters who only cast ballots every four years, this year's electorate appears to be made up of far more voters who are 65 or older, a factor that might actually show that the law is backfiring against Democrats and Udall.
On the flip side, Democrats might have tried taking advantage of another provision of that law allowed voters to register on Election Day and cast ballots; Udall's campaign was pleasantly surprised by lines at in-person voting centers on Tuesday, especially on college campuses.
Gardner, who entered the race in late February, ran a smooth campaign and frustrated Democrats by his ability to dodge their near-constant attacks of his conservative record, mostly his opposition to abortion and mixed support for personhood measures and legislation that would likely outlaw some forms of birth control.
"It's not an overstatement to say Cory saved the Republican Party in Colorado," said former GOP Senate leader Josh Penry on Wednesday. "What Cory does is he recasts, rebrands and repositions this party as sunny and optimistic and reasonable.
"I think he creates a new measure of hope that when Republicans run moderate candidates who run credible campaigns, we can win in this state."
Udall's campaign was criticized for focusing so much on that issue and for not presenting more of a positive case based on the Democrat's first term accomplishments.
"I think it's probably time to re-do the playbook," said Cole Finegan, a prominent Democratic attorney and close adviser to both Udall and Gov. John Hickenlooper. "We had a very good template, a good formula that has worked. There's some parts of that that I think will continue to work as we go forward; there's some parts of that that are showing age and will probably not work going forward."
Finegan also pushed back on the notion that Udall's campaign, had it followed a different strategy, could have survived Tuesday night's GOP wave that took out Democrats from coast to coast.
"In a moment like last night, I don't know that tactics or ads really matter too much," he said. "People everywhere aren't happy with how our country is being governed and last night they took it out on Democrats."