This is an archived article and the information in the article may be outdated. Please look at the time stamp on the story to see when it was last updated.
DENVER — A final Quinnipiac University poll of likely voters shows the race for governor and the U.S. Senate seat in Colorado is too close to call with Electon Day a day away.
Rep. Cory Gardner leads Sen. Mark Udall 45 percent to 43 percent, the poll, which was released Monday morning, showed, well within the 3.4 percentage point margin of error.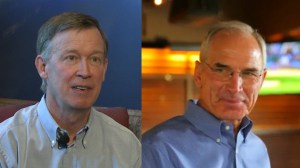 Last week, a Quinnipiac poll had Gardner leading Udall 46 percent to 39 percent.
"Not so fast, say the latest numbers as U.S. Rep. Cory Gardner's comfortable lead over Sen. Mark Udall becomes a race too close to call," said Tim Malloy, assistant director of the poll.
"What looked like a GOP lock on a coveted Senate seat in a target state heads down to the wire with no clear leader."
In the governor's race, a Quinnipiac poll showed Republican Bob Beauprez leading Gov. John Hickenlooper 45 percent to 43 percent.
"Colorado Gov. John Hickenlooper will have to count on an aggressive final hour ground game and a bump from the undecideds to keep the state's top job, but it can go either way," Malloy said.