This is an archived article and the information in the article may be outdated. Please look at the time stamp on the story to see when it was last updated.
DENVER — Sen. Cory Gardner of Colorado says fellow Republican Roy Moore should not run for the U.S. Senate seat from Alabama following allegations of sexual misconduct involving teen girls.
Gardner, who serves as chairman of the National Republican Senatorial Committee – the GOP campaign committee, made the statement Monday afternoon.
"I believe the individuals speaking out against Roy Moore spoke with courage and truth, proving he is unfit to serve in the United States Senate and he should not run for office. If he refuses to withdraw and wins, the Senate should vote to expel him, because he does not meet the ethical and moral requirements of the United States Senate," Gardner said.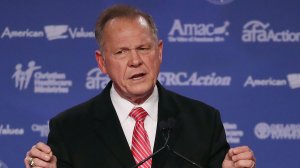 This adds to a growing list of elected officials from both sides of the aisle who have spoken out against Moore, who is running in a special election scheduled for Dec 12.
Earlier Monday, Senate Majority Leader Mitch McConnell said the 70-year-old Moore "should step aside" following allegations first reported by the Washington Post that he had sexual contact with a 14-year-old girl when he was 31.
Also on Monday, a second woman came forward to accuse Moore of sexual misconduct when she was a minor.
Moore said the new accusation is part of a "witch hunt" against him and that he "has never had any sexual misconduct with anyone," in a statement though his campaign.