This is an archived article and the information in the article may be outdated. Please look at the time stamp on the story to see when it was last updated.
DENVER — The clock is now officially ticking.
If 800,000 or so Deferred Action for Childhood Arrivals program recipients are going to keep their jobs or stay in the United States, Congress must act by March.
"There is a serious humane issue here that needs to be dealt with," Republican Speaker Paul Ryan said Wednesday.
"The president's decision to end DACA was heartless and brainless," Democratic Sen. Chuck Schumer said.
While the theme of Wednesday's news conference was "we need to do something," time will only tell if Congress does.
There are some options.
This option is the most likely to succeed at the moment — however President Donald Trump's senior aides said earlier this year he would never sign this into law.
The Dream Act has received the support of both Colorado Senators, Democratic Michael Bennet and Republican Cory Gardner.
"Let's bring certainty to this issue — we don't treat children like adults, we don't charge children with trespass when they go across the neighbors lawn," Gardner said.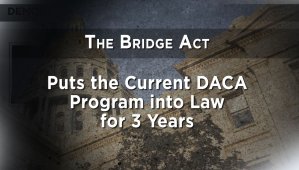 This is what Congressman Mike Coffman, a Republican from Aurora, Colorado is suggesting — allowing DACA to become law while giving leaders time to work on a long term solution.
"When I announced a week ago that I would file a discharge petition, my goal was simple — force action on behalf of the dreamers," Coffman said.
"In the week since, Republicans from around the country have joined our push. This morning, the Speaker told me he intends to work on an immigration measure that includes protection for DACA kids.
"This is a positive development and I thank the Speaker for it. With that said, the discharge petition has been filed, and it will continue to be an outlet if we can't get a bill to the floor.
"I appreciate the Speaker's leadership on this issue and strongly believe Congress needs to finish this important job."
These two acts are likely to receive little support because they are sponsored by Democrats. But it could give moderate Republicans a starting point to work with Democrats.