This is an archived article and the information in the article may be outdated. Please look at the time stamp on the story to see when it was last updated.
DENVER– "I'm Donna Lynne, I'm not exploring a run for governor, I am running for governor."
That is how Colorado's lieutenant governor began her announcement Thursday outside Spring Cafe coffee shop in Denver across from the Capitol on Thursday.
Her entry into the race brings the number to five prominent Democrats seeking the nomination for governor.
It is considered to be the most contested primary in Colorado for governor in more than 20 years.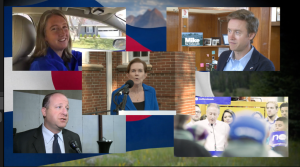 The decision by Lynne to run is a sharp departure from when she became lieutenant governor in 2015.
Then, she said she had no ambition to run for governor.
"First, what I said was — and I'm not being cute — no plans to run for governor, absolutely not. Probably only in the last month or so. I think we had an election on November 8th that I think had  profound impact," Lynne said.
Perhaps Lynne's entry is more about Gov. John Hickenlooper than it is about her.
While Hickenlooper is not officially endorsing anyone, he has been praising Lynne in public appearances for the past several weeks.
"It pays big dividends to have someone in her own right who is an expert in health care," Hickenlooper said on Aug. 31 about Lynne.
When asked if she represents Hickenlooper's third term, Lynne said, "I am proud to have worked for John Hickenlooper.
She asked the governor if he would be OK with her running.
"I think he has done a fabulous job on the economy, with environment and so forth. There are some things I want to do different," Lynne said. "I think we need to be tougher on health care."
"Her boss is on her side," Democratic political analyst Andy Boian said.
Boian added that while Lynne has many benefits — such as being a former health care executive and current chief operating officer in the state — she does have some negatives.
"People don't know her," Boian said. "She has executive experience, but no electoral experience. So to watch her out on the stump is a little uncomfortable."
Boian said the Lynne announcement likely makes the 2018 primary race about the moderate Lynne and the more liberal Congressman Jared Polis, who is perceived to be the front-runner by many.
Former State Sen. Mike Johnston, former Treasurer Cary Kennedy and businessman Noel Ginsburg are also in the Democratic race.