This is an archived article and the information in the article may be outdated. Please look at the time stamp on the story to see when it was last updated.
DENVER — Current Republican Attorney General Cynthia Coffman is not running for re-election after failing to make the ballot in the race for governor.
District Attorney George Brauchler is running for the nomination on the Republican side unopposed and will become the GOP nominee.
On the Democratic side however there is a real battle going on for the right to go up against Brauchler in November.
"This is a battle of experience over a pretty resume," Rep. Joe Salazar, a candidate for attorney general, said.
Salazar is not afraid to go after Phil Weiser, his opponent, and Weiser's lack of political experience.
Weiser for his part is not afraid of his background — because it contains years of public service.
"I've always been about public service. That's been my life's work," Weiser said in a recent interview.
As far as background, Weiser is a former White House Advisor to President Obama, a former Clinton and Obama Justice Department Appointee, and the former Dean of CU Law.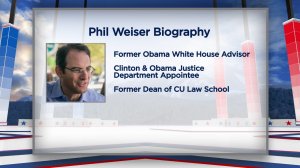 Weiser is also a former clerk to Justice Ginsberg — and he says he has spoken to the Justice about his run.
"I told her I was running and she was happy to hear it," Ginsberg said.
Salazar for his part is a current State Representative, a native Coloradan, and a practicing  attorney in the State.
"I think it's safe to say I am one of the most progressive of anything," Salazar said.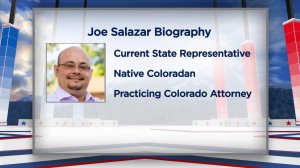 As far as policy — Salazar would clearly embrace a more activist agenda. He is not afraid to say he would not defend the death penalty in court, would go after oil and gas companies, and not defend TABOR if challenged by lawyers.
"TABOR is having such a discriminatory effect on people of Color," Salazar said.
Weiser would also go after oil and gas companies, join lawsuits challenging the Trump administration,  and sue pharmaceutical companies regarding their role with the opioid epidemic.
But Weiser says he would still defend TABOR and the death penalty if challenged — even though he believes the policies need reforms.
"I believe it's not responsible to refuse to defend a law that's defensible," Weiser said.
"The job of the attorney general is to defend the law and be the attorney for the state," Weiser added.
As far as support Weiser without question has received the most donations — he has also received the support of Ken Salazar.
Joe Salazar has enjoyed high name recognition and the endorsement of Bernie Sanders.
"I have pretty limited name recognition because I've never run for office," Weiser said.
"All my life I have been considered an underdog," Salazar said.