This is an archived article and the information in the article may be outdated. Please look at the time stamp on the story to see when it was last updated.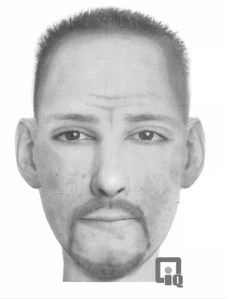 COMMERCE CITY, Colo. — The Commerce City Police Department is seeking a man it says tried to abduct an 11-year-old boy at a park Wednesday morning.
Police say the suspect walked up behind the boy at Pioneer Park (5902 Holly St.) about 9:45 a.m. and grabbed the boy by his shirt and backpack and pushed him down.
A woman who saw what happened yelled at the suspect, who then fled. The witeness then drove the boy home and called police.
The suspect is described as a white male in his 30s with severe acne with a pinkish undertone and open sores. He has brown eyes, a scruffy goatee and a mustache. His hair is faded with longer hair on top and short hair on the side. He also has long, fingers with dirty fingernails and he was wearing a silver wearing.
He was said to be wearing blue pants and a black turtleneck that zipped up in the front.
Anyone with information is asked to call the Commerce City Police at 303-289-3626.
[googlemaps https://maps.google.com/maps?f=q&source=s_q&hl=en&geocode=&q=Pioneer+Park,+Holly+Street,+Commerce+City,+CO&aq=0&oq=pioneer+park&sll=39.724038,-104.979946&sspn=0.030598,0.066047&ie=UTF8&hq=Pioneer+Park,+Holly+Street,+Commerce+City,+CO&ll=39.804712,-104.917551&spn=0.006295,0.009335&t=m&output=embed&w=725&h=575]