This is an archived article and the information in the article may be outdated. Please look at the time stamp on the story to see when it was last updated.
COMMERCE CITY, Colo. – Investigators searched a landfill in Commerce City Friday, possibly looking for the body of a seven-month-old boy allegedly killed by his mother last month.
Sharrieckia Page, 22, was charged with Child Abuse Resulting in Death after her son disappeared on March 22.
Investigators say the boy is "presumed to be deceased."
It was not immediately known what, if anything, was found in the landfill.
The original crime scene included two dumpsters at Page's Commerce City apartment complex, indicating police believe the child's body was discarded with trash.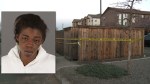 The landfill is located at 3500 South Gun Club Road, just east of E-470.
Page remains in custody at the Adams County Detention Facility on $100,000 bond.