This is an archived article and the information in the article may be outdated. Please look at the time stamp on the story to see when it was last updated.
BOULDER, Colo. -- Police are investigating an anonymous threat that was made against Boulder High School on Tuesday night.
The Boulder Police Department said a screenshot of a text message threatening harm to students went viral on social media.
The Boulder County Cyber Team and investigators from Boulder police are working to determine the source of the threat.
A Facebook post was made of the possible threat.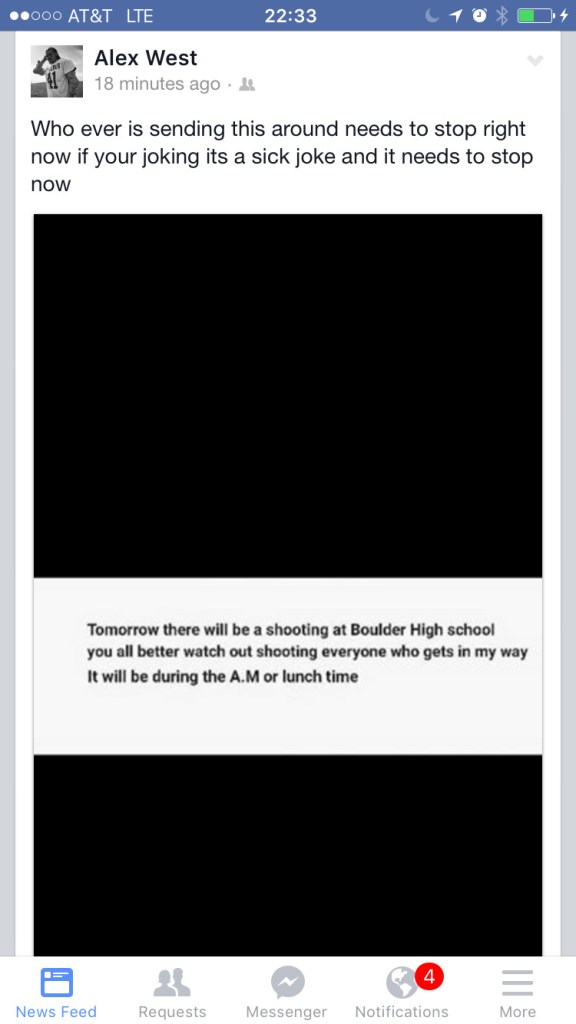 According to a letter sent to parents on Wednesday morning, the Boulder Valley School District said it was working with law enforcement about the threats.
"All threats are treated seriously by BVSD and law enforcement," the letter reads. "Boulder Police Department will provide additional patrols in the school neighborhood and Boulder High campus."
The letter was signed by principal James Hill and Superintendent Bruce Messigner.
Dear Boulder High School Community,

During the evening of Tuesday, January 26, Boulder Valley School District (BVSD)  security received several anonymous tips from individuals about threats of violence at Boulder High School. District and school administration have been communicating with Boulder Police Department regarding the anonymous threats.

All threats are treated seriously by BVSD and law enforcement.  Boulder Police Department will provide additional  patrols in the school neighborhood and Boulder High campus.

Please report any information related to the threats to Boulder Police Department at 303-441-3300 or contact Colorado Safe2Tell hotline at 1-877-542-7233.

Sincerely,

James Hill, Boulder High School Principal

Dr. Bruce Messinger, BVSD Superintendent