This is an archived article and the information in the article may be outdated. Please look at the time stamp on the story to see when it was last updated.
DENVER — A string of incidents on Denver-area RTD buses has some passengers on edge. On Tuesday night, a passenger was stabbed on a bus near the intersection of East Colfax Avenue and Peoria Street in Aurora.
Police have not commented on the extent of injuries, but they did make an arrest.
It was just the latest in a string of incidents. Police are still looking for suspects in two other unrelated cases.
In December, a man in a construction vest allegedly got onto a bus at West Fifth Avenue and North Federal Boulevard and assaulted a woman. Crime Stoppers is offering a $2,000 reward for any information that leads to an arrest.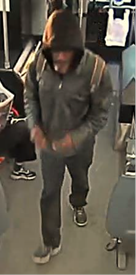 Last week, a man also allegedly exposed himself to a passenger riding the No. 6 westbound bus in Denver.
Police said say he got off the bus near Street Yosemite and East Lowry Boulevard. The suspect is wanted for indecent exposure and police believe he might be a regular passenger.
RTD said the incidents are concerning, but it insists the buses are safe.
"Our trains and buses are very safe, especially if you look at it in the national context vs. other major cities. We are way down the list in terms of incidents, but any incident is something we want to have reported," RTD spokesman Scott Reed said.
RTD is urging passengers to download the app Transit Watch to help with suspicious activity.
The app allows riders to report and communicate directly with security. Users can upload pictures as they see something suspicious happening.
Anyone with information is asked to call Crime Stoppers at 720-913-7867.