This is an archived article and the information in the article may be outdated. Please look at the time stamp on the story to see when it was last updated.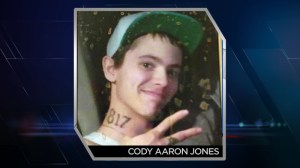 GOLDEN, Colo. — Police are still searching for one suspect after two adults and one teenager burst into the wrong house where they were expecting to find cash and drugs, the Golden Police Department said.
That's as Jefferson County Schools and families from where the victims, Jesse and Jessica Swift, are teachers established a donation site to help the family as they recover.
The home invasion happened in the 1900 block of Washington Avenue just before 9 p.m. Monday. The masked men began attacking the husband with a knife as his wife ran to a neighbor's house to call 911.
Police are still looking for one suspect, 20-year-old Cody Aaron Jones. Additionally, they said they are looking for an unidentified woman who they said might have been driving the getaway car.
As the husband fought back, he was stabbed several times.
"Oh my God please help! … Help … he's bleeding very badly!" the wife was heard to say on the 911 call.
The wife and the couple's two children who were in the basement were not injured.
The husband suffered multiple stab wounds, including to his kidney and other lacerations, as well as a punctured lung. He was rushed to a hospital in critical condition and into surgery, but he is expected to survive.
The Swifts are teachers at Bell Middle School in Golden. The family and the school have received many offers of support from the community.
The Jefferson County Schools Foundation has partnered with Bell Middle School families to create a donation site to support the Swift family.
On Wednesday, the family said in a statement: "We love being part of the Golden community. The outpouring of love and support is amazing. Our many thanks to all of you."
One of the suspects who was in custody, 21-year-old Caleb Williams, also suffered multiple stab wounds and was taken to a hospital. His condition is not known.
He told police the three were expecting to find $10,000 and drugs at the home, but they went to the wrong location and attacked an innocent family.
Another suspect, a 17-year-old boy, had also been apprehended.
[protected-iframe id="67578d26837e153d8d8cd71defd6d34a-29290497-62452405″ info="https://www.google.com/maps/embed?pb=!1m18!1m12!1m3!1d29184.42642913692!2d-105.23772284223138!3d39.747850305825466!2m3!1f0!2f0!3f0!3m2!1i1024!2i768!4f13.1!3m3!1m2!1s0x876b852a6a0a4745%3A0x826ddd71401b7239!2s1903+Washington+Ave%2C+Golden%2C+CO+80401!5e0!3m2!1sen!2sus!4v1463482830162″ width="100%" height="450″ frameborder="0″ style="border:0″ allowfullscreen=""]