This is an archived article and the information in the article may be outdated. Please look at the time stamp on the story to see when it was last updated.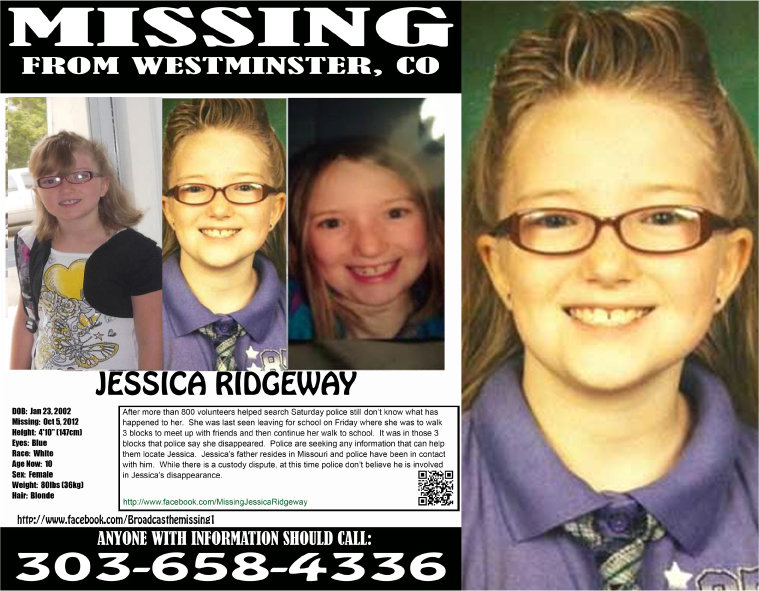 READ MORE: Get real-time updates on the search for Jessica from our live blog
DEXTER, Maine — Police in the state of Maine say they have received multiple reports that a girl matching the description of missing Westminster 10-year-old Jessica Ridgeway has been spotted in a pair of small towns in the country's northeastern-most state.
According to Dexter Police Sergeant Alan Grinnell, a woman called to report seeing a girl who looked like Ridgeway in a light blue station wagon with Colorado plates in the small town of Dexter on Sunday. Dexter Police said similar reports were received in the town of Harmony, with a caller reportedly seeing a girl matching Ridgeway's description in a similar vehicle.
Grinnell said the woman who called to report the Dexter sighting got in touch with them on Tuesday, saying she noticed a girl who looked like Ridgeway on Sunday at 4 p.m. near Springs Street in Dexter, which has a population of about 5,000.
The woman said she didn't report the sighting sooner because she had only recently become alerted to the amber alert regarding Jessica via the internet.
Police said the girl matching Ridgeway's description was spotted inside the car and never got out of it. Police have put out an alert for a light blue, mid-90s station wagon with "fancy," five-spoke chrome wheels. The vehicle reportedly has Colorado license plate, but the license plate number is unknown.
This news comes a day after Ridgeway's family spoke publicly for the first time. Police have said Jessica's mother, Sarah Ridgeway, and father, Jeremy Bryant, have both been cooperating with investigators. Neither has been named a person of interest in the investigation.
The search for Ridgeway reached day six Wednesday. Westminster police said the hashtag "#JessicaRidgeway" is currently the No. 1 trending topic on Twitter, something that has aided in the nationwide search.
The biggest break so far in the search for Ridgeway, who went missing on the morning of Oct. 5 on her walk to school, also came on Sunday, when investigators discovered the girl's abandoned backpack and water bottle in Superior.
If you have any information regarding the investigation, Westminster police are asking you to call the tip line at 303-658-4336, or email PDamberalert@cityofwestminster.us.