This is an archived article and the information in the article may be outdated. Please look at the time stamp on the story to see when it was last updated.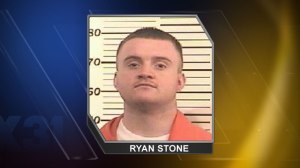 DENVER — The man who authorities said hijacked a car with a 4-year-old boy inside and then led law enforcement on a chase from Longmont to Parker, has a long criminal history court documents show.
Ryan Stone, 28, was arrested in Douglas County after the hours-long chase Wednesday.
According to the Colorado Bureau of Investigation, Stone has an 11-page arrest record. It's a criminal history that dates back to 2003 including arrests for misdemeanor charges including assault and menacing, burglary, harassment, disorderly conduct, child abuse and weapons possession.
He has been arrested nearly every year since then with the exception of 2010 and 2013, the records show. They arrests include possession of drugs, theft, vehicle theft and trying to escape police.
On Feb. 6 of this year Stone was arrested by Centennial police and charged with possession of drugs, having a weapon as a previous offender contempt of court and failure to have proof of car insurance.
Then on Feb. 12, court records show, Stone was arrested by Aurora police and charged with driving without a license and other drug charges. Those cases were still pending when Wednesday's chase happened.
Just nine days ago Stone was arrested by Littleton police.
Longmont police said Wednesday that Stone's girlfriend was arrested Tuesday night after an incident involving a stolen car.
According to the arrest affidavit for Julie Pawlak, she admitted to police that she was a passenger in a stolen vehicle along with a man named Ryan.
Police said they were led to Pawlak after a report of a burglary on Spencer Street in Longmont.
At the scene of the burglary, police found a white Ford F-350 that was stolen out of Englewood, police said. Arapahoe County sheriff's deputies told Longmont police that the suspect in the stolen truck was Ryan Stone, the arrest affidavit said.
Later a woman approached police asking for directions. The officers helped her and then, when searching the truck, found photos of the woman, a purse and letters addressed to a Julie Pawlak. That's when police searched for and arrested Pawlak.
Stone was taken to a hospital after his arrest following Wednesday morning's car chase. He was treated for injuries and a drug injection, said Longmont police spokesman Jeff Satur.
https://twitter.com/DAGarnett/status/443804057371545600