This is an archived article and the information in the article may be outdated. Please look at the time stamp on the story to see when it was last updated.
FIRESTONE, Colo. — Pockets of methane gas remain trapped underground near the site of a deadly home explosion in Firestone, the Colorado Oil and Gas Conservation said Thursday.
In a presentation to the Oak Meadows Homeowners Association, the COCG shared a photo showing areas with higher concentrations of methane.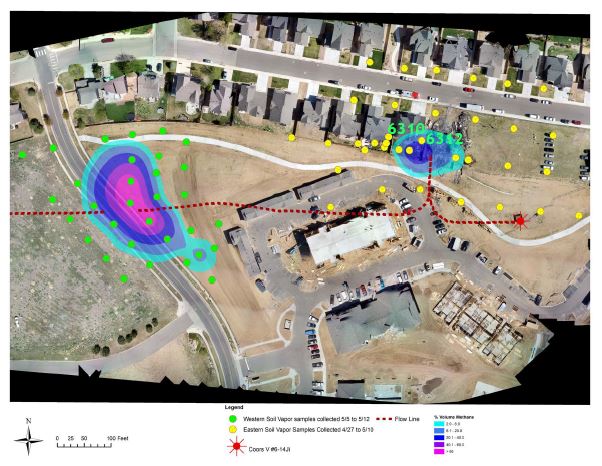 The dotted red line marks the abandoned flow lines running to the home that exploded April 17.
Crews detected elevated levels of methane in two distinct areas, near the site of the home explosion at 6312 Twilight Ave. and a larger, more concentrated pocket of the gas south of Twilight Avenue at Oak Meadows Boulevard.
"Monitoring point data indicate that methane in soil is not migrating to occupied residences," the COGC presentation states.
According to the COGC, Apogee Scientific is using a real-time, mobile leak detection system to monitor the area, and Anadarko Petroleum has installed long-term monitoring points and vents in the area.
The COGC shared an illustration of the effort to extract the vapor from the soil.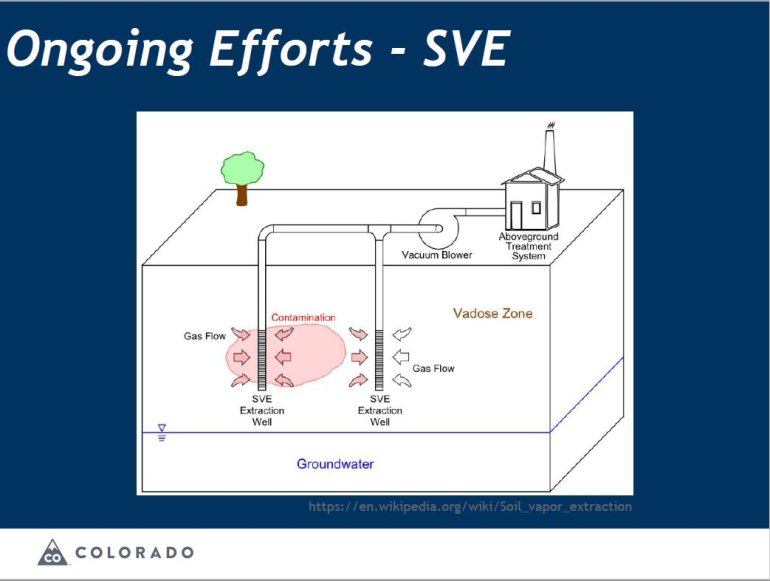 The explosion and fire on April 17 killed two men and left one woman with critical injuries.
The explosion was caused by gas that entered the home through a cut, abandoned flow line from a well, investigators said.
Anadarko Petroleum, which owned the well near the Firestone home, closed 3,000 vertical wells in northeastern Colorado as a result of the explosion.
Great Western Oil and Gas also shut down some of its wells as a precaution.
Gov. John Hickenlooper called for a statewide review of oil and gas operations. Energy companies are inspecting pipelines that are attached to the more than 54,000 active oil and gas wells in the state.