This is an archived article and the information in the article may be outdated. Please look at the time stamp on the story to see when it was last updated.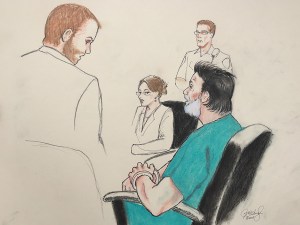 COLORADO SPRINGS, Colo. — The man accused of killing three inside a Planned Parenthood in Colorado Springs on Black Friday appeared in court on Wednesday, calling himself "guilty" and a "warrior for babies."
El Paso County prosecutors in the case announced the 179 charges against Robert Dear Jr. over the course of Wednesday's hearing, one that was peppered with outbursts from the accused 57-year-old.
One of those exclamations was an admission of guilt.
"I am guilty, there's no trial," Dear cried out. "I am a warrior for the babies."
Dear also appeared to decry his public defender Daniel King, the same attorney who helped Aurora theater shooter James Holmes avoid the death penalty.
"I will not meet with him again," Dear said, seeming to be referring to King. "Protect the babies."
Speaking to reporters before the hearing, El Paso County District Attorney Dan May did not indicate whether his office will seek the death penalty in this case, citing Colorado laws that prevent him from making such public declarations.
For at least one victim's family members, hearing Dear gives him some relief during a time in which not much makes sense.
"It's a public demonstration of his character and his agenda," said Deante Chandler who lost his brother Kier Stewart. "That helped me a lot in order to grasp the whole nature of everything."
As the focus moves to accountability, attorney Dan Recht says the case is complicated.
"I don't think anyone would question that Robert Dear has serious mental health issues. Whether he is competent remains to be seen."
He says Dear must be competent to stand trial and if he is he should be allowed to plead guilty even if the punishment is death.
"He's the accused. If he is competent he can plead guilty despite the advice of his attorney and he could still face the death penalty," Recht said.
If that happens, the case would move directly to the penalty phase of a trial.
The Nov. 27 attack Dear is accused of carrying out inside the Planned Parenthood building in north Colorado Springs left 12 injured and three dead.
The three who lost their lives were Jennifer Markovsky, a wife and mother, Ke'Arre Stewart, an Army veteran who served in Iraq, and Garrett Swasey, a police officer.
All three were laid to rest earlier this month.
RELATED: Complete coverage of the Planned Parenthood shooting