This is an archived article and the information in the article may be outdated. Please look at the time stamp on the story to see when it was last updated.
DENVER — A private airplane with a failure in its landing gear made a successful emergency landing at at Denver International Airport Wednesday.
According to DIA spokeswoman Laura Coale, the plane had a hydraulic failure in the landing gear that forced it to land with wheels up.
Three people were on board the plane and all three walked away okay, said Coale.
"Runway 34L is closed, but the rest of the airport is open," Coale said.
"Aircraft are operating on five of six runways at Denver International Airport"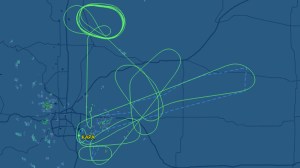 The Hawker 800 aircraft flew circles around DIA and Centennial Airport in order to burn off fuel before attempting the emergency landing.
It's not yet clear when the pilots noticed the problem with the landing gear. The plane took off from Centennial Airport at 11:03 a.m., according to FlightAware.
Emergency vehicles gathered around runway 34L, which is DIA's longest runway on the west side of the airport.
When the Hawker 800 made the landing, the pilot raised the nose of the plane and flared for about 30 seconds in order to reduce speed before impacting the ground.
The actual impact sent smoke and sparks into the air, but no large fire was seen. Fire trucks rushed to the jet and immediately sprayed the area with foam to stop fuel from catching fire.
Another shot of the @Raytheon Hawker that landed w/o landing gear at @DENAirport today, via @WxTrackerDaryl @KDVR pic.twitter.com/a8iNLXQ2IW

— Jeremy Hubbard (@JeremyHubbard) October 15, 2014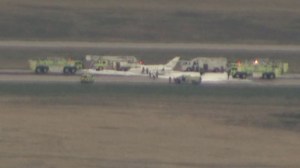 According to the FAA's online registry the plane is owned by Charlie Monfort.  He and his brother both own the Colorado Rockies.
When reached over the phone, Dick Monfort said he was aware of the situation regarding the landing gear but could not give any more details.  His brother was not on the plane.
The NTSB is already investigating the crash.
Jamie Lindsay, a retired captain who flew for United Airlines, said this type of aircraft has a beryllium strip along the bottom of the plane that helps absorb impacts from emergency landings and keep the plane intact.
Watch exclusive video of the belly landing below.