This is an archived article and the information in the article may be outdated. Please look at the time stamp on the story to see when it was last updated.
PARKER, Colo. — A Douglas County sheriff's deputy was shot near Sierra Middle School on Friday afternoon, the Parker Police Department said.
The deputy was in critical condition Friday night, Douglas County Sheriff Tony Spurlock said.
Spurlock requested the community offer its prayers and support for the deputy, Det. Dan Brite. He was out of surgery late Friday night but remained in ICU in very critical condition on Saturday, the sheriff's office said.
Detective Dan Brite has been moved from the OR to ICU. No further info available at this time #DCSOOIS https://t.co/Smlp6Qk1Iw

— DC Sheriff (@dcsheriff) September 3, 2016
Brite is married to Sgt. Christine Brite, who also works for the Douglas County Sheriff's Office. His wife, children and other family members were at the hospital with him.
Spurlock said the suspect, who the Douglas County Coroner's Office has identified as 40 year-old Randall Rodick on Saturday, was shot and killed by a deputy. The sheriff's office described Rodick as suicidal.
RELATED: Witnesses say suspect shot at them during chase in Parker
Sierra Middle School and several other schools were put on lockdown, but it was later lifted, and parents were reunited with their children. according to a spokesman for the Douglas County School District. The schools were not directly involved, the sheriff's office said.
Spurlock asked that people stay away from that section of Parker while the shooting scenes were under investigation.
The Parker Police Department said it was called to a home on North Dixon Drive. When officers arrived, Rodick fired shots at them, and then got into the RV.
Rodick drove toward Parker Adventist Hospital and continued to fire shots, according to the sheriff's office. Rodick crashed the RV between the hospital and the school.
RV of suspect crashed outside #parker Adventist hospital. #breaking #kdvr #kwgn pic.twitter.com/bbZyDCZ7Hn

— Sean Towle (@seantowle) September 2, 2016
At 3:50 p.m., an armored vehicle was parked outside the home.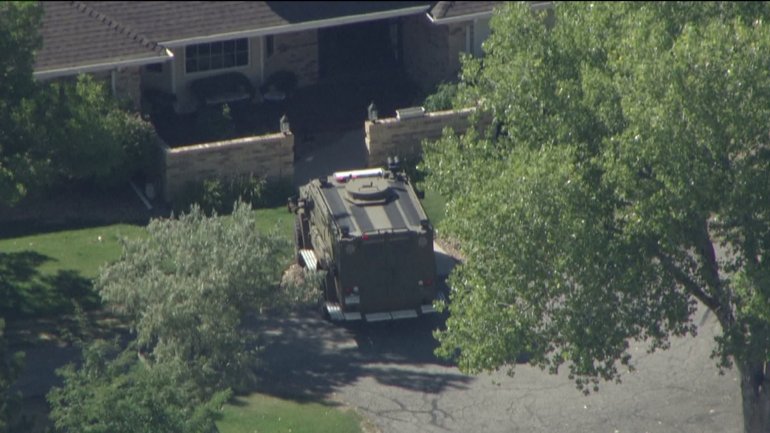 The damaged RV was on the side of a road across the street from the school.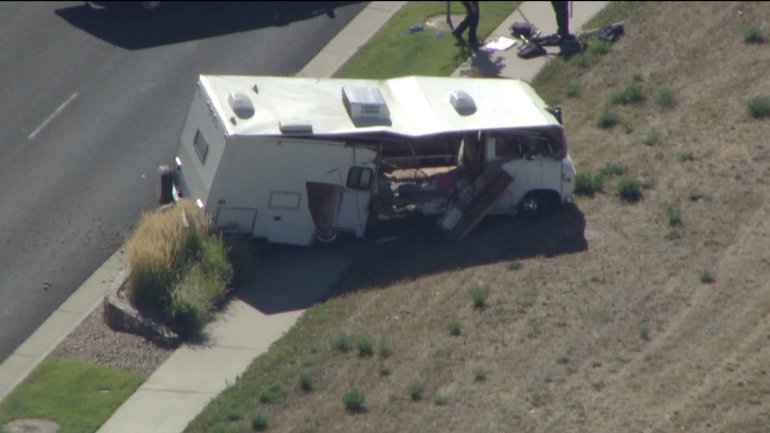 Road blocked in front of Sierra Middle School #breaking @kdvr @channel2kwgn pic.twitter.com/qHCzlo40t6

— Amanda Zitzman (@AmandaZitzman) September 2, 2016
[protected-iframe id="87b0dba1d85c347fb15aa11fb31e8e97-29290497-107072398″ info="https://www.google.com/maps/embed?pb=!1m18!1m12!1m3!1d3076.581925576281!2d-104.76495958463035!3d39.54648437947571!2m3!1f0!2f0!3f0!3m2!1i1024!2i768!4f13.1!3m3!1m2!1s0x876c8e134bb89b89%3A0x6bca74eb9b4b9d14!2sSierra+Middle+School!5e0!3m2!1sen!2sus!4v1472851025208″ width="100%" height="450″ frameborder="0″ style="border:0″ allowfullscreen=""]